WTA Rogers Cup, 18:00 – V Williams v Radwanska
There was speculation that Serena would go easy on her sister as this is a rare chance of a title for Venus. I only traded the first set yesterday. In fact I only traded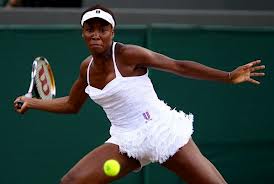 the first 6 games as I was waiting to go out. i watched the full match on YouTube this morning and didn't see any sign of that. Venus served extremely well and some of her returns were top drawer. Serena has said she finds it tough playing her sister. Venus knows her game better than anyone and was the better player on the day.
Many people have said that Radwanska has been out of form this season but her results are actually pretty good. Yes there have been a few losses that we wouldn't expect from her but she is only human. She had a little fortune against Azarenka as another injury ( or was it an old one? ) slowed Azarenka down so much that Radwanska could run her all over the court.
Radwanska won her last two matches with Venus but a check of the stats from those matches shows that the Williams serve was pretty bad. That is in stark contrast to her performances from the line this week and especially how she served against her sister.
They start around evens with Radwanska fractionally lower. it should be a decent battle but I have to favour Williams especially if she can repeat her form from the semi final.
Part stake on her from the start and I will add the rest if she goes a break behind early.
ATP Rogers Cup, 20:00 – Tsonga v Federer
Three of the last 4 hard court matches between these two went to a deciding set.
Federer has dropped sets this week to Ferrer and Cilic. The way Tsonga has served this week it looks likely that he will be able to take a set too.
Tsonga has dropped just one set which was to Murray in the quarter final. In that match Murray was 3-0 up in the third set but was unable to close out the match. Tsonga played a very solid professional match to beat Dimitrov in straight sets in the semi final.
Federer leads the head to heads 11-4 (plus 1 walkover for Tsonga).  He has won both their 2014 matches.
Federer starts at 1.47 . Tsonga doesn't have a great record in finals. if we ignore the Hopman Cup which is an exhibition event he has lost 4 of his last 5 finals.
I expect the sets to be close and will be settled by a single break. They haven't had a huge number of  tie breaks in their previous meetings.
We have a very good chance of Federer trading higher but I expect him to handle the occasion better and he will come through to win in 3 sets.