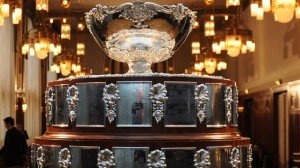 You can't write a tennis blog and ignore the Davis Cup Final (although I have seen a few that have!).
I can understand people's lethargy when it comes to the Davis Cup as I suffer from it myself. It stems, I think, from when I started trading tennis and would research the matches only to find that the players had been changed at the last minute. The new market would eventually appear on Betfair but of course there was no money in it. From a trading point of view this was a bad first impression. Since then I have traded just a handful of Davis Cup matches and when I see them in the match list my initial reaction is, "day off".
There is also the problem in many of the ties that we have a top player against a drastically lower ranked player. The best of 5 format doesn't help the underdog's chances.
But this is the Final. It means so much to the players to represent their countries.
For anyone who hasn't really followed it the matches run over 3 days. We have two singles matches on day 1, a doubles match on day 2 and two more singles matches ( if needed ) on day 3.
This year's final is between hosts  Serbia and the defending champions the Czech Republic.
The first day should be really competitive. It should be as its a final but we have Djokovic (1.03) v Stepanek and Lajovic v Berdych (1.03).
Djokovic leads the head to heads  8-1 over Stepanek. Stepanek's only win came in 2006 when he was ranked 23 and Djokovic was a qualifier ranked at 72. He has managed a few sets in their matches since then including at Wimbledon last year but that was the only set in the last 2 years.
Djokovic may be a little tired after a long season but this event means a lot to him and I can't see him  allowing Stepanek too many chances on one of his favourite surfaces in front of his home fans.
Berdych has never played Lajovic who has played just 5 ATP Tour main draw matches on indoor hard courts in his career. He won just 2 of them. He has had some success on the Challenger tour though and won the title in Seoul at the beginning of November on a hard court when Julian Reister withdrew from the final. A quarter final the week before that in Kazan was on an indoor hard court.
The Serbian coach has said that Lajovic could upset Berdych. I think he was just relieved that Tipsarevic was injured and anyone would be an improvement.
Lajovic may be able to keep the first set close if he serves well. Berdych admitted to have never seen him play but I don't expect him to take more than a few games to work him out.
The Czechs are probably favourites to take the title.  Berdych knows that he has to take care of business today and I can't see that not happening.