A couple of poor days for the Shark Tips. Wozniacki won as underdog but Murray and Halep couldn't hold onto decent positions (Halep especially). Last night Parmentier and Sharapova were losers. I was due a couple of bad days after  recent excellent results.
The Wins a Set List has been performing well too although I am miles behind with the results spreadsheets. Only so many hours in the day!
On to today's trading previews!
WTA Cincinnati, Women's Final, 19:00 – S Williams v Ivanovic
Williams leads the head to heads 6-1. They have played 3 times this season. Ivanovic won in 3 sets at the Australian Open and Williams won their other hard court meeting in Stanford last month.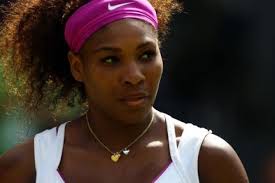 Both players had tough 3 set semi finals. Ivanovic had a very strong start against Sharapova and was a set and 4-0 up but Sharapova took the second set. In the third Sharapova served for the match and had a match point but was broken. Ivanovic saved a break point in the next game but held and then broke for the win.
Wozniacki took the first set 6-2 in the other semi final and Williams took the second by the same score.  Seven of the first 8 games of the deciding set were breaks of serve but Williams took a 5-2 lead which proved to be enough.
Ivanovic has been in three finals this season winning two of them. The other was a 3 set loss to Sharapova.
Williams has also been in three finals winning all of them. She has been in 17 finals in the last 2 seasons and only Azarenka has been able to a final from her which she did twice. The last one was in Cincinnati last year and Azarenka won in a third set tie break.
Williams starts at 1.29. She hasn't lost a set in a final this season but I'd be very surprised of this one is over in 2.
Williams to win in 3 sets.
ATP Cincinnati, Men's Final, 21:00 – Ferrer v Federer
It's a very one sided head to head record with Federer winning all 16 of their previous meetings. Their only match in the last 2 seasons came last week in the Toronto quarter finals. Federer won in 3 sets. The only other time Ferrer has taken him to 3 sets on a hard court was at this tournament in 2009. Away from clay courts Federer leads 20 sets to 3.
Federer's first 2 matches this week went to 3 sets but once the standard of the opposition stepped up a level so did he. Murray struggled to hold serve right from the start and was broken twice. The Brit sorted himself out early in set 2 and took a double break 4-1 lead but Federer won 6 of the next 7 games to take the match.
Raonic had demolished Fognini in the quarter final and I thought he would keep the sets to just 1 break but the big Canadian won just 5 games from Federer.
Ferrer has had some tricky opponents this week. He beat Kohlschreiber in 3 tie break sets. Youzhny led 5-2 in the first set before Ferrer won 11 in a row to take the match.
Robredo knocked out Djokovic and took Ferrer to 3 sets. Benneteau had found some form this week but had maybe run out of steam by the semi final.
Ferrer has lost 9 of his last 10 finals. Federer has actually lost 9 of his last 12 finals but it is hard to imagine him losing this one. I think he will look to get the job done quickly and straight sets are likely.
However from a trading point of view I would like to see Ferrer take an early lead to push Federer's price a fair bit higher than his 1.25 SP.