WTA, Internazionali BNL d'Italia, 12:30 – Sharapova v Suarez Navarro
Sharapova leads their previous meetings  3-1. Their most recent match was this season on a hard court. She won in straight sets. They have never met on clay.
After the way Halep had played in her 2  previous matches I didn't expect her to lose to Suarez Navarro. Looking at the stats from that match both players' second served were weak. Suarez Navarro won just 25% of points on her second serve against Halep and there were 18 breaks of serve in that match. A weak second serve today will get slaughtered.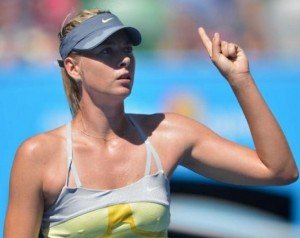 This has been a tournament for strange results but surely Sharapova takes the title. She finally put a stop to Gavrilova's excellent week. She hasn't dropped a set so far.
In keeping with the rest of the tournament this may go to 3 sets but Sharapova should control the majority of the match. Suarez Navarro has had problems on serve all week and I expect Sharapova to be able to put it under pressure as others have done. However where other players have failed is in being able to take care of their own serve. Whilst this is often a weakness of Sharapova's she has been excellent on serve this week and especially so in her last 2 matches.
ATP Internazionali BNL d'Italia, 15:00 – Djokovic v Federer
They have had some very good battles in the past. their head to heads are 20-20. They are very closely matched and this should be a great final to watch.
Federer hasn't dropped a set so far and turned on the style in the second set of the semi final. he had gone behind to both Wawrinka and Berdych but each time he broke straight back and controlled the matched from that point on.  
Djokovic has only won one match in straight  sets though it was in the semi final. He has dropped sets to Almagro, Bellucci and Nishikori and I think this also goes to 3 sets.
The value is on Federer. He won their most recent meeting on clay. Lay the 1st set winner for a trade.
If Federer can get the game plan right today he has a great chance of lifting the trophy this afternoon.