ATP SkiStar Swedish Open, 13:00 – Paire v Robredo
Robredo won their only previous meeting in 2013 on clay. He won in 3 sets.
In the stats for the last 12 months on clay Robredo leads on service holds but Paire is ahead in everything else. Robredo hasn't had his best season so far. He has had some minor injury problems.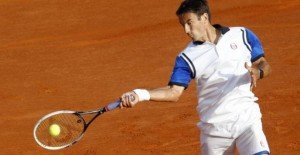 Paire has also had injury problems at the start of the year but seems to be over them for now. His best performances have been on clay. Paire has had quite a week. He beat Goffin who is a very strong player on clay though hasn't been at his best this year. Istomin had been having a spike in form in recent weeks but Paire beat him in straight sets. Finally he beat defending champion Cuevas, also in straight sets. Cuevas was affected by a decision in the opening set and just never let it go. It affected his game.
Robredo didn't impress me in the opening match against Ramos even though I had expected Ramos to give him problems. Ramos was poor. Against Mathieu Robredo served much better. He faced 5 break points and saved them all. Zverev was always going to put pressure on him. Zverev had 10 break points and took 2 of them.
Robredo is rightly the favourite. Paire has been in just 2 ATP finals and lost both in straight sets. Today I think there is a good chance of 3 sets but I will go with Robredo's greater experience of ATP finals.
Back Robredo when a break behind.
ATP Claro Open Colombia, 21:00 – Mannarino v Tomic
Tomic won their only previous match earlier this season. That was also on  hard court and he won in 3 sets.
Tomic is trying to defend his title. For hard court matches in the last 12 months Mannarino has an edge in most categories. If we look at just the last 6 months then things shift in
Tomic's favour.
In the semi final Mannarino won just 1 more point than Karlovic. He won in 2 tie break sets. Karlovic didn't face a break point. Mannarino faced 2 and saved both.
Tomic was a break behind in the 3rd set against Berrer. His serve has been getting him out of trouble. He hit 23 aces in the last round.  Both the sets he has lost this week have been in tie breaks. He has been creating enough break chances in his matches. He will need to create plenty today as Mannarino will save most of them.
We will get at least 1 tie break today. Value is on Mannarino as the sets will be so close. I am going to go with Tomic though  to win in 3 sets. Backing serve is an option.