Paris Masters
Djokovic v Federer
Federer went into his match with Del Potro with a game plan. That in itself is unusual for a player who claimed in the past that he never had a plan but just played his own game. The plan worked a treat as Federer grew in confidence in the first set. Del Potro was a little fatigued and Federer made the most of it. It looked like being a straight sets win but a slight dip in concentration from Fed and increased pressure from Del Potro at the end of the second set brought a break and a third set.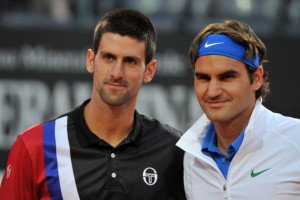 Federer broke first and even though Del Potro leveled it another break for Federer was enough to give him a welcome win over a top 10 player.
Djokovic weathered the storm of the Isner serve and as the American tired was able to take control of sets 2 and 3. Wawrinka played a great match in their quarter final but Djokovic was able to step up when needed.
Djokovic has rested before this week so that he can keep up the pressure on Nadal and will be super motivated to get the job done today so that he can close the gap between him and the number 1.
I feel Federer has achieved what he set out to do this week and whilst I expect a good show from him he really doesn't need to run himself into the ground this afternoon.
1.30 on Djokovic offers no value but if we can get better in the early games I'll be taking it.
Update: Djokovic looked nervous in the first set. Federer was playing well but his task was made easier by some poor errors from his opponent. Having taken the opening set Federer immediately went a break ahead in the second. THAT was when Djokovic decided to start playing. He broke back and went on to take the set.
The start of the third set was a little nervy but Djokovic started to get on top and in the end it was as comfortable a set as this type of match will see.
Djokovic won 4-6, 6-3, 6-2.
Nadal v Ferrer
I was expecting a Nadal v Berdych final. That looked likely when Berdych immediately broke Ferrer but it was Ferrer who came through in 3 sets.
Ferrer has shown this week that he is still as fit as ever. He has been in the final for the last 2 weeks and here he is still running on Saturday.
Ferrer has put Nadal under pressure in 2 of their last 3 matches. They were all on clay. The pair haven't met on a hard court since 2011. Ferrer has won 5 of their 26 previous matches and 4 of those wins came on non-clay courts.
Nadal has also rested before this week to be in the best shape for the Djokovic charge. He hasn't lost a set this week and his serve is doing its job well.
In all honesty I don't expect Ferrer to be particularly competitive today. The massively one sided head to head puts pressure on him before they enter the court. He won't want to give up his only Masters title but I'm not sure he will have much say in the matter.
Nadal in 2 sets.
Update: Not many expected this result! Ferrer is at the end of 3 long weeks yet managed to beat the world number 1 in straight sets!
Ferrer won 6-3, 7-5.
Tournament of Champions
Halep v Ivanovic
They have met just once before which was in February. Halep retired after the first set.
Halep hasn't dropped a set so far. Pavlyuchenkova and Svitolina didn't offer too much resistance but Cornet gave her a run for her money with Halep winning 6-4, 6-4.
Ivanovic's matches have seen more drama. Her first match with Pironkova was the exception with fellow wild card entry Pironkova winning just 2 games. Ivanovic started very well against Stosur. For a set and a half she was the stronger player before Stosur fought back to take the match into a third. Ivanovic stood strong and took the win.
Vesnina started aggressively and took a double break lead. Ivanovic almost fought back but had left herself too much to do. Ivanovic appeared to be taking control of the match. She took the second set and went 5-2 up in the third. She wasn't able to close out the match and Vesnina came back to win in a tie break.
I'd expect Halep to be the more consistent and her controlled aggression should be too much for Ivanovic. It will need Halep to have a nightmare from the service line for Ivanovic to keep this close.
Halep in 2 sets. Ivanovic seems to have lost the ability to bring her best tennis to the big matches. There is a reason she hasn't won a title this year.
Update: Halep was suffering from an injury that was affecting her serve. She had treatment after losing the first set. It seemed to work as she won the next set 6-1!
Ivanovic took a 3-0 lead in the third set and Halep had the magic treatment again. She won the next 6 games!
Halep won 2-6, 6-1, 6-3.
Stosur v Pavlyuchenkova
This one isn't easy to predict. That doesn't mean I have the others correct!
Stosur leads the head to heads 2-1 but they haven't played for over 2 years. Stosur is rightly the favourite but she showed signs against Ivanovic of her inconsistency that she has managed to control in the latter half of the season.
Both these players can be brilliant one minute and unable to find the court the next.
Stosur's 3 month stats are strong on serve and Pav leads the return stats. Comparing them against common opponents brings Stosur's return of serve number much closer.
If Stosur's serve is at its best then she wins this in straight sets but without it Pavlyuchenkova has a chance to take this the distance.
It is Stosur's match to win or lose.