WTA AEGON Classic, 12:00 – Mladenevic v Pliskova
Mladenovic won their only previous meeting which was last season. It was on an indoor hard court and she won in 2 sets.
It was a great win for Mladenovic over Halep yesterday though if Halep's serve hadn't disappeared in set 2 I think Mladenovic would have struggled to get back into the match. Halep served superbly in the opening set but bizarrely in the second she hit 5 double faults and won just 6 points on serve.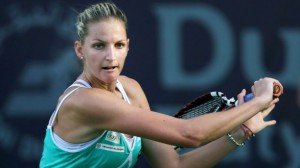 Pliskova was very aggressive against Suarez Navarro though Carla and her team got the tactics all wrong. She replaced the back hand topspin with a slice. Slice is effective on grass and especially so against a tall player like Pliskova but she over used it.  To remove your best shot from your game is crazy. She lost confidence when the game plan wasn't working.  Pliskova didn't let her off the hook though.
I think if Pliskova serves well and is as aggressive as she was yesterday she will be too strong for Mladenovic. Pliskova is no stranger to a slow start though and I think we may see 3 sets.
Wait to back Pliskova when she is a break behind.
ATP AEGON Championships, 15:00 – Murray v Troicki
Murray has won all 6 of their previous matches. Troicki has won just 2 sets which were both at the French Open in 2011.
Troicki has been serving very well this week. He hasn't been broken in his last 2 matches (God knows what he was doing in his match with Mathieu!) and even though Murray
is one of the best returners on the tour this could easily go to a deciding set.
Murray struggled at times against Muller in the last round. I think as the sets should be very close laying Murray below 1.15 is a good option for a cheap lay. I expect the Scot to win in the end though it is far from certain.