Just 2 days until the French Open starts. I plan to cover every match in my daily Trading Advice email. Quite a commitment as there are usually 64 matches each day during the 1st round!
Predictions, previews and trading advice for every match. Sign up HERE
ATP Geneva Open, 11:00 – Bellucci v Giraldo
Bellucci leads their head to heads 4-3 (4-2 on clay). They played twice on clay last season and Bellucci won both in 3 sets.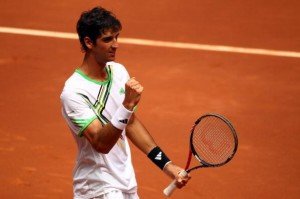 Bellucci won his opening set with Ramos 6-0 but then lost the second 1-6. Lots of errors from both players and they were struggling with the uneven bounce on a poorly maintained court. In his 2 previous matches Bellucci had served well.
Giraldo beat Cilic in the last round in straight sets. He didn't face a single break point. Cilic hasn't impressed me recently. His serve stats weren't bad but he still faced 11 break points and was broken 3 times. Only Youzhny was able to break Giraldo this week.
I think this goes to 3 sets. I give a slight edge to Bellucci. He starts around 1.54 .
WTA Internationaux de Strasbourg, 14:30 – Mladenovic v Razzano
Mladenovic leads their head to heads 1-0. That was last season on clay and she won in straight sets.
Mladenovic moved into the semis when Keys withdrew. She made a slow start to the week with a 3 setter against Parmentier but played really well to beat Riske in 2 sets. . Her serve stats for that match  were excellent.
Wild Card Razzano had a break in the first round when Barthel retired injured. She has taken full advantage with a straight sets win over Schiavone and she came back from losing the first set to Vesnina in the quarter final losing just 2 games in sets 2 and 3. Both the sets in their previous meeting were close and I won't be surprised to see this go to a deciding set.
I'll back Mladenovic if she goes an early break behind.
ATP Geneva Open, 15:00 – Delbonis v Sousa
Delbonis leads the head to heads 1-0. That was in 2013 on a clay court and he won in 2 sets.
Wawrinka's stats for his match with Delbonis aren't bad at all yet he was broken 4 times. Having said that winning a higher percentage of points on second serve compared to first serve isn't ideal. You have to also consider whether Wawrinka wanted an extra day's rest before starting in Paris.
Delbonis has been playing well this week and has dropped just that one set to Wawrinka in a tie break.
Sousa is also having a good week and dropped his first set in the quarter finals. He beat Andujar in a third set tie break.
Delbonis is priced too low but I do expect him to win this one. I need a price above 1.65 before backing though.