It is a little surprising that this will be the first time they've played.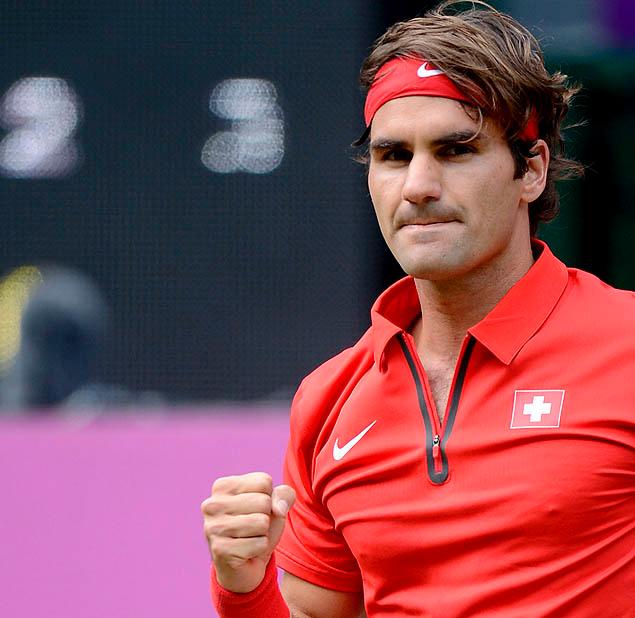 I suppose for the headline writers the fact that it is in Federer's back yard
opens up more possibilities. Dimitrov is coming off a rare title win in Stockholm last week where he beat Ferrer in the final. He had a very solid straight sets win over Dolgopolov in the final.
Federer's problems and losses have been well documented. His straight sets loss to Robredo at the US Open was one of the shock scorelines of the season. After a long break from the tour he came back in Shanghai and lost a 3 set thriller to Monfils. In the last round this week it looked like Denis Istomin was going to be the latest to add to Roger's problems but wasn't quite up to the task.
Sharapova is quite skilled at using publicity as she showed recently with the whole Sugarpova charade at the US Open. She will have pointed out the publicity possibilities of this match especially if Dimitrov wins. Will that motivate Dimitrov or pile more pressure on his shoulders? We will find out this afternoon.
Federer will know that his opponent will be nervous. Whenever a young player sees an idol over the other side of the net it adds to their nerves. When that idol is also arguably the best player ever to hold a racquet and you're playing him on his home court Dimitrov would be advised to sit on a towel.
Everyone wants to see this one but I don't expect a classic. I don't see Dimitrov being able to play his own game and we have seen him fold like wet cardboard in big games before with the exception of last week's final.
Federer to win in 2 tight sets although there's a slight possibility of 3 sets.
Update: Federer won 6-3, 7-6.
Youzhny and Nieminen have played 4 times before but the most recent was 2008. 3 of those 4 matches went to a deciding set although obviously their relevance is minimal to today's encounter.
Their stats for the last 3 months are so similar that another three setter would be no surprise at all.
Youzhny started the week slowly and lost the opening set to Tomic. He fought back well and Tomic retired when Youzhny led 4-1 in the third set. Against Kohlschreiber in the last round Youzhny made a very different start taking an immediate 3-0 lead. He finished an entertaining match in straight sets.
Nieminen has yet to lose a set  and is playing very consistently at the moment.
Youzhny is rightly favourite but 1.60 is a touch too low. Even though their previous matches are a long time ago Nieminen won the opening set every time they played a best of 3 match. ( Their other match was at Wimbledon).
Youzhny to win in 3 sets.
Update: Youzhny won 7-5, 6-7, 6-4.
In other matches:
Brands to beat Roger-Vasselin – 3-6, 6-4, 3-6
Ferrer to beat Janowicz but will trade higher than his 1.35 SP. – 6-4, 4-6, 6-0.
Jankovic to beat Errani in 3 tight sets. – 4-6, 4-6
Fognini to cause Almagro some real problems. Almagro starts at  1.43 and there's a good chance Foggy takes the opening set.