I will post some matches for this afternoon. This is the first day since we got the dog that my wife is at work and I am working days. The routine is a work-in-progress!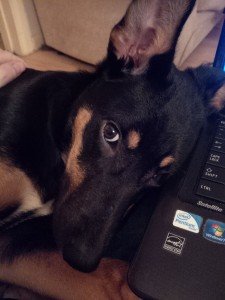 Young Border Collies don't tend to do well when left for long periods. The plan was to have his bed in the office but he doesn't like the idea!
In Paris Cornet starts as favourite against Rybarikova.
They have only played once recently which was last August on a hard court. Rybarikova won in 3 tight sets.
Neither player has made a fantastic start to the season but home advantage will help Cornet a little. Rybarikova reached the second round last year as a qualifier before retiring against Errani.
This should be another close one and I feel Cornet is a little low at 1.63.  I will watch the opening games and will be looking to lay whoever goes a break ahead early.
Also in Paris Petkovic takes on Jovanovski.
Both players are capable of putting in a great performance on hard courts but I am favouring Petkovic in this one.
Her predicted holds are a little higher and she edges all the significant stats. They played twice in 2013 with Jovanovski winning at the US Open in 2 sets and perkovic taking the Miami meeting in straight sets.
I don't like Petkovic's starting price of 1.58 though and will be looking for over 1.80 .
Staying with Paris, Suarez Navarro has won all 3 of her previous matches against Larsson and is yet to drop a set against the Swede.
Carla reached the quarter finals last year and she should be up for this one. 1.50 seems a very fair price against the qualifier. As Larsson has made it through qualifying she could start a little better than the Spaniard though and I feel we will see some early pressure on the Suarez Navarro serve.
I'll wait for 1.70 .