Dubai, 13:00 – Berdych has an impressive 8-1 head to head record over Kohlschreiber. They haven't played for a couple of years but it was in the Australian Open 2011 when Kohlschreiber took his last set off the Czech and August 2009 was the only time the German beat him.
Berdych is probably playing the best tennis of his life. He is serving consistently and with very few bad service games. You could usually rely on him to have a bad game from the line in each set but they are a rare commodity in 2014.
Kohlschreiber has also made a decent start to the year though not to the standard of Berdych. Third set losses to Evans and Sijsling aren't going to impress anyone.
Berdych starts at 1.18 which is understandable but I won't backing there. If Berdych's sunburn spooks the market as it did against Tsonga we might get a healthier back price.
Dubai, 15:00 – The second semi final is probably the one most people want to watch.
Federer is still the player they love in Dubai even though he isn't even the top Swiss player never mind the top player in the world.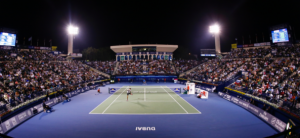 Djokovic has won their last 3 matches. The two most recent were last season and both went to 3 sets. The third was in 2012 and Djokovic won 7-6, 7-5.
Federer lost a set to Stepanek which isn't ideal preparation but at least it put him in position where he had to fight. He was also a break behind in the third set. He had to get serious and managed to do just that to get the win. Rosol copped the backlash from that scare in Fed's next match and managed the get just 4 games.
Djokovic has had it easy so far. Maybe too easy. Istomin and Bautista Agut were out classed and Youzhny withdrew before the quarter final. You can bet that Federer will put up more of a fight and Djokovic's price of 1.24 looks way too low. Anything under 1.20 has to be a lay given that Federer has taken him to 3 sets the last 2 times they played and has had better matches to find his timing on these courts. Obviously it would be nice if Federer comes out swinging and gets an early break or even the opening set.
I think Djokovic takes this in 3 sets though.
Brazil, 17:30 – Monaco played himself into a little form yesterday to beat Ramos in a tight 3 setter that wasn't exactly oozing with quality.
It won't be easy for him today either against Lorenzi who hasn't dropped a set in his two matches.
1.53 on Monaco is too low and I feel 1.70 is perhaps a truer reflection of their chances. We would never get that pre match on Monaco who has shown his quality many times and was in the top 10 just 2 years ago. If I see 1.70 on him I am in.
Brazil, 21:30 – Andujar looked very motivated in his last match against Pella. He started well but had a minor slump half way through the set. He soon got himself back on track though and controlled the match against a sub par Pella.
Tommy Haas was pushed to a tie break against Starace in their opening set. Haas soon found his timing on the clay though and wasn't under pressure in the second set.
If Zeballos comes out as pumped up as he did in the last match I think he will give Haas a hard time. they have never met so they will take a few games to feel each other out. (that sounds a bit wrong!).
Haas is yet another favourite with a starting price that is not a true reflection of their chances. Zeballos can trouble most players on clay if everything falls into place for him.
I am looking to back Haas a break down in the first set.