When there aren't enough main tour matches I also include some Challenger tournaments on the Daily Trading Spreadsheet.
Have a look at yesterday's spreadsheet through this link 01apr2015er
Get your copy emailed to you EVERY day from http://blog.tradesharktennis.com/trading-spreadsheet
ATP Miami Open, 20:00 – Nishikori v Isner
They have never met.
Nishikori hasn't dropped more than two games in a set in his three matches. Isner had a good win over Dimitrov and then had three tie break sets with Raonic in his last match. It is easy to see who will be the more rested.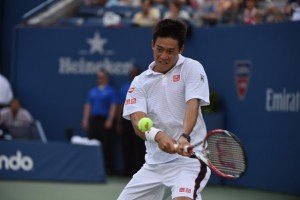 Isner's form has improved since the Davis Cup tie with Great Britain. Obviously a huge part of his game is the serve and Nishikori won't find him easy to break. Tiredness could be Isner's downfall against the super fit Nishikori who has really worked on the fitness and durability side of his game before this season.
No one will be surprised if Isner takes the first set in a tie break but after that is down to how much energy he has left for the rest of the match.
Lay Nishikori below 1.30 for a trade. I give a slight edge to Nishikori and I think he wins in 3 sets.
WTA Miami Open, 02:00 – S Williams v Halep
Williams leads 4-1 (plus 1 walkover for Halep). They played twice in 2014 and won 1 each. Both were on indoor hard courts.
Between them they have just 1 loss in 37 matches this season. The season stats favour Halep on everything except service holds.
Williams didn't have a great day on serve against Lisicki in the last round. her first serve percentage was just 45% and she won 50% of points on her second serve. She was broken 6 times.
Halep was broken just twice in her win over Stephens.
I think this will go to 3 sets. I'd expect Williams to be very focused as she is for her Sharapova matches. Halep is probably her biggest threat on tour and she will be keen to stamp some authority on the match. She does get nervous before the big matches though just like anyone else. She is likely to have a lot of friends and family around her for this one and won't want to lose in front of them. Value is on Halep but Williams wins in 3.
Lay Williams below 1.25