Paris Masters
Djokovic v Ferrer
OK, put your hand in the air if this is the final you expected. Put your hand down, no one believes you.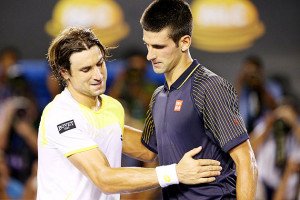 This is Ferrer's third final in as many weeks. That is some achievement. When Fognini achieved the same thing in July he was barely able to move in his third final and  he was bageled by Robredo.
Ferrer has made it to this final by beating the world number 1 in two very close, hard fought sets. Physically and mentally that must have taken everything he had left.
His record against Djokovic isn't as much better than his record against Nadal. Djokovic has won all six of their matches in the last 2 seasons. They were all on hard courts and Ferrer managed just 1 set. The last time Ferrer beat him was at the World Tour Finals in 2011 when Djokovic was running on empty.
Djokovic won't want a three setter today. He wasn't at his best against Federer yesterday and didn't really start playing until he was a set and a break down. I am sure  the plan today is to get the job done in straight sets.
Even Ferrer must have heavy legs this morning and it will take an almost super human effort to take this final especially when you consider he was able to win against Dimtrov or Youzhny in his previous finals.
Update: What is David Ferrer on?? He just wouldn't go away and served for both sets at 5-4 but was broken each time.
Djokovic won 7-5, 7-5.
WTA Tournament of Champions
Halep v Stosur
This is the final most expected.
Halep came through in 3 sets against Ivanovic and it was a leg injury that kept it close. having gone an early break up Halep was struggling on her own serve and lost 5 in a row. She then has treatment on the leg which seemed to help a little. She won the next set 6-1! In the third set Ivanovic went 3-0 up and Halep had more magic treatment. She won 6 in a row to take the match.
Stosur had the expected 3 setter with Pavlyuchenkova. She has had a section of each of her matches where she switched off which could be her downfall today.
They played just last month in the final in Moscow. Halep win in straight sets.
We don't know how bad Halep's injury is so it is difficult to get involved from the start. She is at 1.56 which seems a fair price IF she is fully fit which she clearly isn't.
I will be waiting for a higher price so will have time to assess if her leg is going to be an issue. Ivanovic really let Halep off the hook yesterday and I feel that given the same set of circumstances Stosur is more able to take advantage.
If Halep is able to compete for the whole match even if she needs an MTO or two then she should take the title which she fully deserves after the season she has had.
Update: Halep won 2-6, 6-2, 6-2.