So Wawrinka and Gasquet have almost certainly made it to London. Raonic has an outside chance of taking a place from one of them but it doesn't look likely.
An up to date points position can be seen at http://live-tennis.eu/race
Wawrinka is first up against Almagro. In the last 2 seasons they are 2-2 with Almagro taking their only hard court match. Of the two players he is the one that has played above expectations this week. His straight sets win over Dodig  was a little unexpected as was Lopez pushing Wawrinka as close as he did yesterday.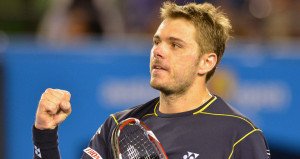 Stan is the more improved player this season but can get very tight when career milestones are close. To reach the world finals would be a huge achievement for him and the fact that he can lose today and is still virtually assured of a place could affect his mind today.
I still favour him to get the win but it won't be pretty. I don't see any value in his starting price of 1.60 and will be waiting for higher.
Update: Almagro started well and got the early break and a 3-1 lead. He was broken back and lost the plot. He only won 2 more games in the match.
Wawrinka won 6-3, 6-2.
Ferrer is defending champion and takes on one of last year's semi finalists Simon.
Simon put me through the wringer yesterday as he was one of my SHARK TIPS selections. I think his only easy service game was when serving for the first set. So often he would get to 40-0 or 40-15 and stop playing. I lost count of the number of time I shouted at the screen, " You need 4 points Gilles!!". He lost the 2nd set tie break from 4-0 and lost a break lead in the third set before finally closing out the match in another tie break.
Ferrer had an odd match against Rosol. He took the opening set 6-0 but then lost the second 2-6. He was a break down in the third but took 5 games in a row.
Last year Ferrer was already qualified for London but kept playing for the title in Paris. Maybe he is happy to be in London but doesn't expect to have a chance of winning so will take what he can this week.
Either way I won't be backing him at 1.38 . I will wait to see how they are playing but laying whichever player goes a break behind early in the match could be a good place to start. Simon won their only previous hard court match but I will be happier with my money on Ferrer but at a price above 1.70 .
Update: Ferrer won 6-2, 6-3.
Cilic looked more rusty against Del Potro than he had in his first match back after his ban. Obviously Del Potro is a stronger opponent than Sijsling but if he'd had just a little more confidence in going for the winners he could easily have taken a set. He still had a set point in the second set even though most of his chances were in the first.
Del Potro was obviously wanting to get the job done in 2 sets and was getting quite frustrated when he wasn't able to take his chances. His reaction at the end of the match wasn't that of someone who had planned to lose.
It was at this stage last year that he lost to Llodra so at least he has equaled that.
Dimitrov has improved on last year's performance and if Del Potro adopts the same energy saving tactics that he used yesterday then Dimitrov won't be missing the chances that come his way.
They have played just once before which was in February, also on an indoor hard court and Del Potro won 6-4, 6-4. I can see him being "happier" with a loss to Dimitrov than he would have been to the rusty Cilic assuming his focus is now on London.
Worth a lay on Del Potro at 1.40 but I may wait with part of my stake to try for an entry below 1.30 .
Update: Dimitrov took the opening set. Early in the second set Del Potro called the trainer and I think everyone thought he was going to retire. In fact he kept playing and took the next 2 sets!
Del Potro won -6, 6-3, 6-4.
Finally a match worth watching in Sofia! Ivanovic takes on Sam Stosur.
Stosur leads the head to heads 4-2. She won their last 3 meetings including in Moscow two weeks ago.
Stosur has had a very good second half of the season and whilst she can always have a run of poor errors ( can't they all?) I think she comes through this one with the win.
Her 3 months stats are stronger and even more so if we compare their performances against common opponents.
Stosur in 3.
Update: Stosur's serve was below the level we have seen from her recently. Ivanovic was playing well and took the first set. Ivanovic started well in the second set but momentum shifted quickly to Stosur who leveled the match. Ivanovic took the third.
Ivanovic won 6-2, 5-7, 6-2.
Federer pulled out of Paris last year having lost in the Basel final. Points are important to him right now. He has had a while to get used to not being number 1 in the world but to not be number 1 in Switzerland will be a tough pill to swallow.
He is 8-0 against Kohlschreiber. He has only lost 1 set to the German and has always won in straight sets in best of 3 matches.
Kohlschreiber has the game to push him close especially if Federer is not sharp but I think Fed will come through. Would be good if he goes a break behind early though!
Update: Federer won 6-3, 6-4.
With Wawrinka winning this morning Gasquet will feel he needs to put in a strong performance against Nishikori.
Gasquet has won all 3 of their previous matches dropping just 1 set. Nishikori had a medical time out in his match with Tsonga and is as likely as anyone to be hurting at this stage of the season.
Gasquet has had an excellent season and has come through a dip in form. I want a higher price than his SP of 1.48 . If Nishikori is hurting he may well go for a fast start to get what he can from the match before he needs to call the trainer.
Unless Gasquet is relying on Raonic failing to get the required points this week, which would be foolish, he has more to play for today.
Update: Gasquet won 6-3, 6-2.