It is this week that the top players set their sights on.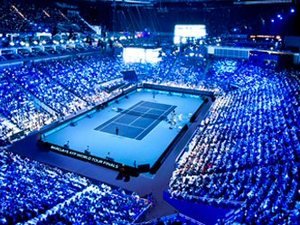 It has been more of a fight than normal with added spice due to the chance that Federer might actually not make it.  Andy Murray misses the event as he is recovering from back surgery.
The 8 players are split into 2 groups
Group A
Nadal
Ferrer
Berdych
Wawrinka
Nadal has taken the number 1 ranking from Djokovic with an incredible season. However the defeat to Ferrer means he has not yet secured that top ranking.
Ferrer's win on Saturday against Nadal added some interest to Group A. The court will be faster at the O2 Arena which won't help Ferrer repeat that superb win. Also if Ferrer doesn't show signs of fatigue this week they seriously need to think about testing him. He has reached 3 finals in 3 weeks and was still full of running in yesterday's final with Djokovic.
Berdych is capable of worrying the the other top 10 players. The problem is that he so often doesn't bring his best tennis when playing the big boys. He has played a top 10 player 16 times this year and won just 5 of them.
Wawrinka has had the best season of his career and has shown he is able to go toe to toe
with the top players. He has played against top 10 opposition 17 times this year and won 7 times. The latter half of the season has seen to biggest improvement in his game and he has won 5 of his last 10 matches against top 10 players.
Group B
Djokovic
Federer
Del Potro
Gasquet
Djokovic gave himself an outside chance of regaining the number 1 ranking from Nadal
this week with a win at the Paris Masters. He won the World Tour Finals event last season with a win over Federer in the final. He is in arguably the toughest of the groups although no matches will be easy for anyone.
Federer has won this event 6 times and reached the final last year. He has had one of his weakest seasons since reaching the top of the game but showed last week that he can still compete against the top players. He will probably have to beat Del Potro again to reach the semi finals on Sunday.
Del Potro is playing the best tennis of his life and if he remains fit all week he will be able to trouble any player. He had a slight hip problem last week and was tired against Federer but even when he looks down and out he is a dangerous opponent.
Gasquet is perhaps the weakest of the 8 players. A player with incredible talent but who has underachieved so far in his career. He has won 3 of his 11 matches this year against top 10 opponents (Ferrer twice and Berdych). He seems to lack a little belief in himself although reached a rare grand slam semi final at the US Open and has had his best season for some time. His game is fragile but we are bound to see some amazing ground strokes from him especially on the backhand.
Sunday's semi finalists are likely to be :
Djokovic, Del Potro, Nadal, Wawrinka