Group A, Round Robin
Berdych v Wawrinka
Wawrinka leads the head to heads 7-5 and has won their last 2 matches. They have played twice before on indoor hard courts and Berdych won both of them. The most recent was in February this year in the Davis Cup.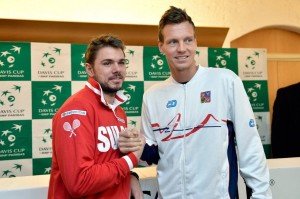 Wawrinka's season really began its upward path in April when he started working with former world number 2 Magnus Norman. One of the main changes has been to his mental approach to matches. Norman seems to have convinced him that he is good enough to compete with the worlds top players and that belief has taken him to his career best ranking of 8.
Berdych has had a consistent year without being spectacular. He has once made it through the round robin stages at the Tour Finals. Last year losses to Djokovic and Murray put him out although he did get a little revenge over Tsonga who had beaten him in the semis the previous season.
Berdych starts as slight favourite and if he plays his best tennis he can take a tight match. How will Wawrinka react to his first time in the Finals? Under Norman he has proved he can lift and maintain his level in the big matches against the top players but this week will be a severe test of his new found self belief. If the occasion doesn't get to him ( and personally I don't think it will ) then I expect the Swiss player to take this.
Wawrinka in 3 sets.
Update: Wawrinka won 6-3, 6-7, 6-3.
Group B, Round Robin
Del Potro v Gasquet
Del Potro leads the head to heads 5-1. They haven't played this year but he won all 3 of their 2012 matches in straight sets. Two of them were on indoor hared courts.
Both payers have had one of the best seasons of their careers.
Gasquet has never quite lived up to his potential. His game can be fragile. When he is on top form his ground strokes and in particular his backhand could be hung in the Louvre as works of art. Fitness can let him down and often doesn't perform well at the back end of the season.
Del Potro has said he is playing some of his best ever tennis. His body has actually stood up to the season well. His withdrawal from the French Open and from the doubles in Shanghai were due to illness rather than injury. Even when he has had an injury he found a way to play with it and most notably at Wimbledon when he looked certain to retire from his match with Ferrer before going on to win the match in straight sets!
The courts are expected to be fast this week and that favours the Argentine. Gasquet will have to play the match of his life just to stay in contention.
I'm expecting straight sets to Del Potro but an early break for Gasquet would be most welcome!.