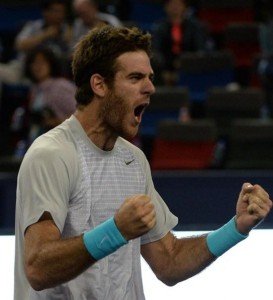 We had a pretty good first day. Wawrinka and Berdych gave us a high quality match to start us off. The court isn't as fast as expected and that will change things this week. Del Potro wasn't able to hit through Gasquet who actually played some excellent tennis.
Today we have a couple of rematches from last week.
Group A, Round Robin
Nadal v Ferrer
The slower the court the more you'd expect it to favour Nadal. He has won their last 17 matches on clay.
Last week's win by Ferrer was unexpected to say the least. As we were gearing up for another Nadal v Djokovic final not many expected Ferrer to spoil the party and even fewer thought he would win in straight sets.
Nadal needs a couple of wins to secure the number 1 ranking so you'd think the motivation was there. However the same could have been said last week.
Another thing that adds to the drama is wondering just how long Ferrer can keep playing his physically demanding style of tennis before he starts to even look tired? I know I keep saying it and you're probably tired of reading it but this guy has reached the final for the last 3 weeks. His last 2 matches were against the top two players in the world. He's like the Tennis Terminator.
I think today we will get another close one. Before their meeting in Paris Ferrer had been getting closer to Nadal. He is no longer a clay courter who can play a bit on other surfaces.
I think Ferrer will at least get very close to taking a set today. Nadal to win in 3 sets or perhaps 2 sets with one VERY tight set.
Update: Finally Ferrer looked tired! Nadal won 6-3, 6-2.
Group B, Round Robin
Djokovic v Federer
Djokovic has an outside chance of taking the year end number 1 ranking. Nadal ought to keep it but one mistake from the Serb will wreck his own opportunity.
He won the tournament last year to prevent Federer winning it for three straight years. 
The market doesn't give Federer too much chance and Djokovic starts at 1.33 but the court will be a great leveler and I think if Federer  comes into this week with the same attitude as he had last week then he can take it the distance again.
Federer really has his work cut out to reach the semi finals. He has his own world ranking battle going on too except he is now fighting to keep his Swiss number 1 rank. Wawrinka is right behind him with not too many points separating them.
Federer will need another fast start and if he is taking the ball early then you know he's up for it. I think Djokovic will just have enough to get the win in 3 sets.
Update: Djokovic won 6-4, 6-7, 6-2.