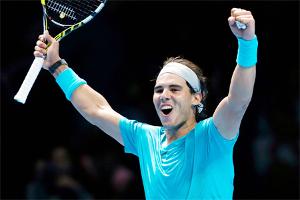 Fairly predictable matches yesterday with Nadal and Berdych winning. The only surprising thing for me was the fact that Nadal had problems finishing each of his sets. Maybe the fact that he needed that win to secure the year end world number 1 ranking played a part and certainly his reaction at the end of the match was more than you would expect after beating a guy who had lost all 24 sets to him in the past.
Nadal started each set well and had a break point for a 5-2 lead in the first. Wawrinka was playing well but Nadal normally wouldn't have allowed him back into it. In the second set Nadal once again had an early lead and after a tough hold for 4-1 it looked as though Wawrinka had given up judging by his reaction as his shot flew long. However once again Nadal made errors and let him back into the set. This time in the tie break Wawrinka had set point. Even the world number 1 suffers from nerves sometimes!
Group B – Round Robin
Federer v Gasquet
Federer knows he needs a win today to have a chance of reaching the semi finals. Gasquet, having lost his opening match, knows he probably won't beat Djokovic and has nothing to lose today.
Gasquet played a great match against a subdued Del Potro on Monday. He broke the Argentine's serve in the opening set but was immediately broken back. He was able to take a tight tie break. In the third set Del Potro was broken as he served for the match but as so often happens against the top players Gasquet's brain let him down. He was broken back straight away and this time Del Potro held easily.
Federer leads the head to heads 10-2 but they haven't played in the last 18 months. Since their last match Gasquet has enjoyed one of his best seasons and Federer has dragged himself through one of his worst.
I really don't know if Gasquet's mind is up to beating Federer but if the likes of Pospisil and Istomin can take a set you have to fancy Gasquet's chances of taking this one the distance. He has the game to compete with the best but needs the first set. I don't think he has the self belief to come back from a set down.
If Gasquet looks like he is striking the ball well and especially his backhand in the early games laying Federer is worth a go.
Federer in 3 sets.
Update: Very disappointing from Gasquet. Far too passive until the match was almost over. Then after the match we are told he is ill. Would be nice if they told us BEFORE the match!
Federer won 6-4, 6-3.
Group B – Round Robin
Djokovic v Del Potro
If Del Potro was affected by being robbed before his match with Gasquet then he has had time to get over it for this one. He didn't look as sharp as normal on Monday but was able to step it up when needed.
Djokovic started his match with Federer better than he did last week in Paris and this time took the opening set. In the second set his behaviour became erratic as he almost fell over after a few of his serves and seemed to be complaining to his camp about not being able to see. Maybe he had been given a bad batch of his magic chocolates and was tripping out. Whatever the problem was it allowed Federer to take that set and Djokovic returned to "normal" in the third.
They have played 4 times in 2013. Djokovic won 3 of them. In those 3 matches Del Potro took a set in two of them ( he won 2 sets at Wimbledon). In Djokovic's only straight sets win the second set went to a tie break.
I don't think anyone would be amazed if Del Potro was able to win this match. I would be surprised if he doesn't at least take a set. Djokovic has won 18 matches in a row so you can see why he is 1.31 but he will trade much higher than that.
All things considered I expect a Djokovic win in 3 sets. This court doesn't make breaks easy until one player runs out of steam.