14:00 – Sharapova v Halep
Sharapova probably couldn't believe her luck when Serena Williams was dumped out early by Muguruza.  Williams beat her in last year's final in straight sets. Maybe she put extra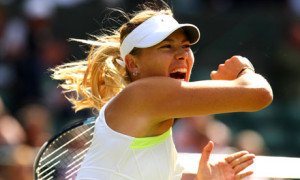 pressure on herself then as she took over the position of favourite to take the title. As we moved into the second week Sharapova has lost the opening set of all 3 of her matches.  She will be desperate not to waste this opportunity.
Halep's rise to the top has been nothing short of spectacular. Perhaps even more remarkable is how comfortable she looks with her new status among the elite. There is no arrogance and no attitude but a very strong confidence in her ability.
I have described Errani as the WTA's Ferrer. Halep is like a blend of Ferrer with a little Nadal thrown in. She is a great defender and her movement is as good as anyones but she also possesses the power that lifts her above the average top 20 player.
Sharapova's strengths are her mental toughness and her power. We know about her mental strength as she so often finds herself having to come from behind. She will increase the intensity and that, along with the powerf
ul ground strokes is enough to intimidate most players
Halep deals well with someone hitting powerful shots at her and she is superb at redirecting that power and her timing is impressive.
Winning your first Grand Slam final is tough to do but if I had to pick a player with the composure, talent and game to do it my choice is Simona Halep.