Group A – Round Robin
Ferrer v Wawrinka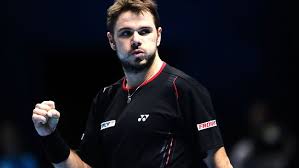 Since the second set against Nadal has shown signs of the inevitable fatigue. He will never stop fighting but was a step slower than normal against Berdych and his task doesn't get any easier today.
Wawrinka has made a decent job of his first visit to the finals. He beat Berdych in 3 sets. In his second match he took Nadal to two tie breaks despite not playing his best tennis. His backhand seemed inhibited which I suspect was due to the fact that it put the ball to Nadal's forehand which isn't usually a good tactic. Nadal gave up leads in both sets and was himself probably distracted by being so close to securing the world number 1 ranking. I expect a better performance from Stan today. Playing an opponent like Nadal is hard enough but when you have never even taken a set from him it must mess with your mind to some degree.
They have played twice this year. Both were on clay and they won one each. Wawrinka took the most recent match in April in straight sets.
Don't think for one second that Ferrer isn't bothered about this match. He wants to win it and will fight all the way. I doubt however that his body will be able to keep up with his desire to win.
I think Wawrinka will play a little more freely today and that his backhand will be more of a feature in his game plan.
Wawrinka's SP of 1.50 is a little tight and there is always a possibility that he can have a slow start. That shouldn't be the case today but Ferrer is likely to come out trying to force the pace in the early games. The Spaniard doesn't want 3 sets!
I think we will see a better price on Wawrinka in the first set. If he is focused I feel he can take this in straight sets.
Update: The match started slowly but eventually Wawrinka increased the pressure on Ferrer and got the break. He led 5-2 and served for the set at 5-3 but was broken.  He fell apart for the next few games and lost the set in a tie break.
Wawrinka made a nervous start to set 2 but quickly pulled himself together. As Ferrer was tiring and getting very angry with himself Wawrinka was able to take the set. He easily won the decider.
Wawrinka won 6-7, 6-4, 6-1.
Group A – Round Robin
Nadal v Berdych
Nadal showed glimpses of his best tennis against Wawrinka but as I said above the was perhaps distracted by trying to secure the number 1 ranking. He wasn't able to hold onto leads in each of their sets and needed to dig deep in the two tie breaks.
Berdych has a chance to qualify for the semi finals but he has to win today. That could be a problem. Nadal has won their last 16 matches. In those matches Berdych managed just 2 sets. Berdych hasn't beaten Nadal for 7 years.
Now that he knows he will end the season as world number 1 Nadal can play a little more freely. He won't want to meet Djokovic in the semi final and a win today will  avoid that. These guys play for pride as much as money and whilst I have seen people predicting this morning that he will ease up once he has won the set he needs to qualify for the semis you don't reach the top in any field by being "happy" to lose.
I think Berdych has an outside chance of taking this to 3 sets but the most likely outcome for me is Nadal 2-0.
Update: What a strange match!. It started as most expected with a break for Nadal. That was enough to give him the set. What happened to Nadal in the second set is a bit of a mystery. Those who thought he would tank the match after getting the set that he needed must have been feeling quite smug as Nadal stacked up the errors and Berdych took the set 6-1.
Normality  was restored in the third set.
Nadal won 6-4, 1-6, 6-3.