14:00 – Nadal v Djokovic
Djokovic has won their last 4 meetings including the recent Rome final on clay.
Nadal has an incredible record at Roland Garros but records don't always help. They can add pressure.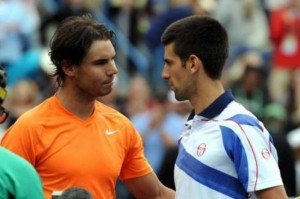 In the Rome final Nadal kept it competitive. His performance against Murray was exceptional and he confirmed to Neil Harman from The Times that he had played his best tennis for quite some time. I have to agree. Murray was made to look very ordinary and the Nadal forehand was exceptional.
Djokovic ended the run of Gulbis though it has to be said Gulbis didn't play well. Towards the end of the 3rd set which Gulbis won Djokovic wasn't looking in great shape at all. In the 4th set Gulbis made a few early errors and that gave Djokovic the boost he needed. He has had problems in the past with the heat and I think that was the problem. He was throwing up after the match. The forecast for today is 27 degree but with thunderstorms later. Not good conditions for Djokovic.
If Djokovic's price was higher then value would be on him but given all the above I have to go with Nadal.