So Nadal and Wawrinka make it through group A as predicted on here 😉
Djokovic is through from Group B so I just need Del Potro to beat Federer to make it 4 from 4.
Group B – Round Robin
Federer v Del Potro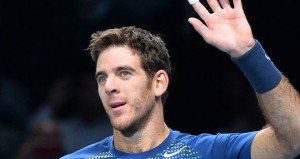 My gut feeling on this one was for a Del Potro win. He has won 3 of their last 4 matches. This is the third time in 3 weeks that these two have met. Federer won last week in Paris having said before the match that he had a game plan to beat the Argentinian. The plan appeared to work although Del Potro looked a little tired. He always looks tired between points but his play wasn't as aggressive as normal.
My selection process gave Del Potro as the winner but when you check the stats Federer comes out slightly ahead.  His predicted holds are higher. His 3 months stats are fractionally higher and its the same story when comparing their performance against common opponents. The only category where Del Potro comes out on top is in break point conversion.
This is potentially their last match of the season with the winner going through to the knockout stages so you would expect that they will not hold back despite any fatigue. They have a holiday to recover before serious training starts for 2014.
In Del Potro's favour is that he took Djokovic to 3 sets. A negative for him was being taken to 3 sets by Gasquet although the Frenchman played extremely well and Del Potro may have been distracted a little by the robbery.
Federer has also taken Djokovic to 3 sets but beat Gasquet in two. Gasquet was a shadow of the player who took the opening set from Del Potro. It emerged after the match that he was ill and "Reeshard" strikes me as someone who doesn't handle illness well.
The conflict between stats and my selection process usually means 3 sets which would be no surprise at all given that their last 6 matches were NOT won in straight sets.
The winner will be the person who deals better with the tiredness that the end of season brings. Federer has really helped his confidence in the last 2 or 3 weeks but struggled to put Gasquet away quickly. I don't think we can say that either player wants it more than the other so I am going to stick with my selection process and also my pre-tournament prediction.
Del Potro in 3 sets.
Group B – Round Robin
Djokovic v Gasquet
It's difficult to find too much enthusiasm for this match. Djokovic has already topped the group. Gasquet was disappointing in the last match with Federer which has been put down at least in part to him being ill. Djokovic leads the head to heads 10-1 and whilst you could be forgiven for thinking Gasquet will  go out there and have a go as he's under no pressure, in reality he has shown too often in the past that he doesn't do that against the very best opposition.
Djokovic starts at 1.08 so you could take a cheapish lay. If you really have nothing better to do on a Saturday evening than watch a one sided match that has no meaning whatsoever then you could watch in the hope that you get a better price to back Djokovic. Even in the set betting market Djokovic is 1.30 to win 2-0 . A small lay of the 2-0 market when he wins the first set is an option.
Djokovic in 2 sets.