WTA Mutua Madrid Open, Women's Final, 16:30 – Kvitova v Kuznetsova
So who expected this final? No you didn't!
Kvitova leads 3-1. What keeps things interesting is that Kuznetsova's win was in their most recent meeting. Also it was their only previous clay court match. She win 3 sets in last season's French Open. Three of their 4 matches went to 3 sets.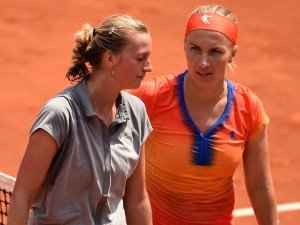 Kuznetsova has ridden her luck a lot this week but has also fought hard and served well for large parts of her matches. Her semi final with Sharapova was near perfect. She faced just 1 break point which she saved. She has won in two 3rd set tie breaks this week and her win over Muguruza was 7-5 in the 3rd set. She is perhaps most likely to get tight in a winning position. She has given up a few leads this week although despite being tight in the latter games of the semi final she got the job done on serve.
Kvitova started the week slowly needing 3 sets to beat both Govortsova and Vandeweghe. The lost set to Govortsova I can forgive as it was the first set of the week. Kvitova really needed to find her clay touch after a few weeks off and a poor loss to Brengle in Stuttgart. I was surprised that Vandeweghe was able to push her to 3 sets although to be fair Vandeweghe played at a high level in that second set.
By the time she played Pavlyuchenkova in the third round Kvitova had found her touch. Begu in the quarter final put up a good fight and is a very capable clay player. In the semi final Serena wasn't at her best it has to be said but Kvitova was really playing like she had nothing to lose. She had defended her semi final points from last year. She controlled most of the second set but when Serena got a break back it looked like she was perhaps going to make one of her famous comebacks. In the end the world number 1 just couldn't take care of her own service game.
I expect one or both of them to drop their level today. Kvitova had her first win over Serena and on her least favourite surface.She may suffer a let down today.  Kuznetsova won't match her semi final level. From a purely value point of view the value is on Kuznetsova. Three sets look likely IF they play to their semi final levels.
I hope the final lives up to the drama of the semis.
[socialpoll id="2270594″]
Sign up for my Daily Trading Advice email by clicking the banner below. predictions, previews and trading advice for all the day's main tour matches. EVERY DAY.