Article from www.bbc.co.uk/sport
Aljaz Bedene is to switch his allegiance back to Slovenia despite becoming a British citizen in 2015.
The world number 49 will play for the country of his birth again next year in order to compete at the 2020 Olympics.
New International Tennis Federation (ITF) rules mean he is not permitted to play for Britain in the Olympics or Davis Cup.
Bedene, 28, who was British number two, said he does not want to miss out on "two events that mean so much to me".
His plans to represent Great Britain were thwarted by the ITF's decision, with little notice, to prevent players representing more than one country from January 2015.
"I have proudly called Britain my home for the last nine years and so many people there have made me feel welcome both in the UK and abroad," Bedene said in a statement on Friday.
"I am also particularly grateful for the support the Lawn Tennis Association (LTA) have shown me in that time and in fighting my case for GB Davis Cup eligibility.
"It was a dream of mine to be able to compete for a country that has given me so much in the Davis Cup."
The LTA, which has offered him extensive support throughout the legal effort to make him eligible to play for Britain, said it understood his decision.
"We have always been realistic with regard to the ITF's eligibility appeals process and supported Aljaz's battle to secure his Davis Cup eligibility for Great Britain," a statement said.
"It is a shame that this case did not warrant an exception, but we absolutely respect Aljaz's wish to fulfil his international ambitions at both Davis Cup and the Olympics."
There may be a feeling of relief within the LTA that this long saga is finally over, although it is understood there has been some frustration at Bedene's lack of communication and his rather opaque answers about his future intentions.
The erstwhile British number two's decision to return to live in Slovenia effectively ended any faint hope that the ITF might be persuaded of his case to represent GB in team competition.
A return to the Slovenian fold has also been made possible by the recent departure of the country's long-term Davis Cup captain Blaz Trupej.
Bedene's switch to Britain caused a lot of ill feeling within Slovenian tennis, but Trupej has now been replaced by Miha Mlakar, a good friend who attended the player's wedding in August.
Tennis Slovenia has been working very hard to tempt Bedene back into the fold, and it can surely be no coincidence that Aljaz's twin brother Andraz has just been appointed Mlakar's assistant.
Bedene has also moved from Hertfordshire, his home of the past six years, after his new wife Kimalie did not settle well in the UK and was keen to return to Slovenia to advance her singing career.
Bedene has spent most of the last two months training with his British coach Nick Cavaday in Ljubljana, although notably was seen practising at the National Tennis Centre in Roehampton last week.
'A worthy candidate for exemption'
The LTA had been given some reason for optimism in the Bedene legal case earlier this year.
Although an arbitration hearing upheld the ITF's new rule, Charles Hollander QC expressed the "greatest sympathy" for the player's predicament.
"Bedene cannot be characterised as one of those players who desire to adopt a 'flag of convenience'. I hope that the passage of time will be sufficient to persuade the ITF that Mr Bedene is a worthy candidate for an exemption," he stated in his ruling.
The LTA had been hoping Bedene would boost the options available to Davis Cup captain Leon Smith – especially on clay, where he won 16 matches in a row at Challenger and ATP Tour level this spring.
Ultimately, though, they got nothing for their investment other than Bedene's appearance in the third round of Wimbledon this summer, and the third round of the French Open the year before.
Bedene did not receive any direct funding, but the LTA bore the costs of the appeal to the ITF and February's arbitration hearing. A lot of time was also invested in him by Smith and, especially, by the LTA's legal director Stephen Farrow.
Dan Evans speaks out against Aljaz Bedene's switch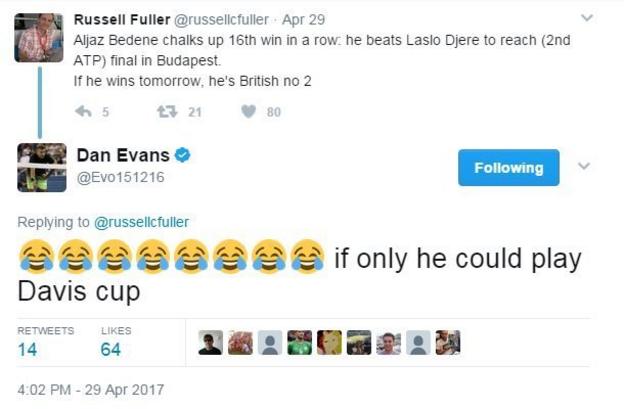 One or two noses have also been put out of joint. Dan Evans has always been riled by the LTA's support for Bedene and told BBC Sport at May's Madrid Masters: "I don't think he really believes he's British, either."
Evans now has problems of his own, as his ranking has dropped sharply after a 12-month ban for a positive cocaine test.
As a result of today's announcement by Bedene, Andy Murray and Kyle Edmund will be the only British men in the top 100 when the new season dawns in just over a fortnight.
Reaction
Former British Davis Cup captain David Lloyd on BBC Radio 5 live
I can't blame him – he wants to play in the Davis Cup and the Olympics. But the LTA backed him and gave him the chance to become a British citizen… and now he can switch back? I think it's wrong.
I think the LTA made a bad decision. Can you blame a player that really wants to play? I don't think the LTA should have supported his case. I don't think it was a real genuine case of becoming a British citizen.