Cilic leads their previous matches 5-2. They last met in May at the French Open. Cilic won in straight sets.  He won at this tournament last year in 3 sets. They also met at this venue in 2013 and he won in 3 sets.
Both players have decent records at Queens Club.  Cilic reached the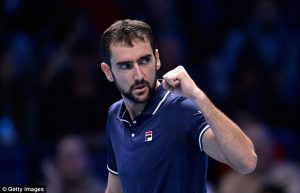 semi finals last year. He made the final in 2013 when he lost to Murray in 3 sets. In 2012 he was the champion. Nalbandian had taken their opening set but in the second set the Argentinian crazily kicked a board that the line judge was sitting behind. The line judge though it was an audition for a south American football team and took a dive. Nalbandian was defaulted and Cilic took the title.
Lopez reached the final in 2014 where he lost in a third set tie break to Dimitrov. who he beat yesterday. He also reached the semi finals in 2010
They have played well to reach the final with both only being broken once. Cilic has looked particularly strong. It looked like he was going to beat Muller comfortably but Muller managed to take it to 3 sets. The way Lopez is serving there is a chance he can take a tie break set but I have to favour Cilic. His powerful ground strokes are backing up his huge serve well.
Back Cilic if he faces break point on his serve.