Isner leads their previous matches 3-2 although Muller has won their last 2. They last met  at Queens Club on grass in June last year. He took it in 3 sets with 2 tie break sets.
Their sets are always very tight. Nine of their 13 sets went to tie breaks.
Better overall results for Muller this season. He has also been slightly better than Isner on hard courts. He has saved all 6 of the break points he faced this week.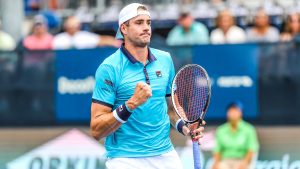 In the quarter final Lacko had 1 break point which was the first that Isner faced in his last 6 matches. Of course he saved it.
This is likely to be settled in tie breaks. Some value on Muller as underdog. Backing servers is an option although a break of serve will have a much bigger effect on the price than in a "normal" match.
Isner has home advantage and he has a superb record in Atlanta. He has been in the final for the last 4 seasons. He won 3 of those finals and lost out to Kyrgios in 2 tie break sets last year.
I have to give the edge to Isner.