This will be their first meeting.
Simon's hard court stats are not great but are stronger than Mmoh's even though Mmoh is playing weaker opponents in Challenger tournaments. Simon does however have a pretty good record at the Australian Open. He reached the 4th round last year.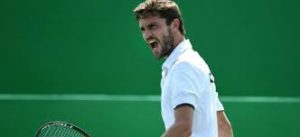 Mmmoh had his best season in 2016 with all his success coming on hard courts. He went deep into several Challenger tournaments.  He should be out-gunned today though.
Simon often starts slowly and let's hope we see that tonight. Four  sets. seem the most likely outcome.  No value on Simon at the start but back him if he gets broken and then Mmoh holds. Alternatively wait for Simon to lose set 1 before backing him.