Head to heads are 2-2. Their last meeting was at the Rio Olympics last August. Fognini won on a hard court in a third set tie break. Their other matches were all on clay. Paire won at the French Open in May 2015. He won that in straight sets.
Paire came through the last round despite not winning a set. Tommy Haas won the first 2 sets but then retired.  Paire reached the semi finals in Chennai 2 weeks ago.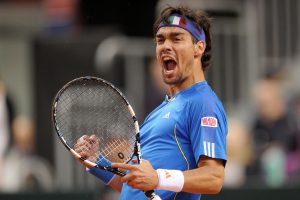 Fognini had a really poor season on hard courts in 2016. I was a little surprised that he beat Lopez so easily in the last round.  He only faced 2 break points which Lopez converted but he had 28 break points on the Lopez serve. He managed to break him 6 times.
Pretty much anything can happen here as both players are quite capable of deciding they have done enough and putting in a woeful performance.
I am going with Fognini and will wait to back him if he faces 1 break point. I think we see 4 sets.