Cilic 4.70, Federer 1.26
Federer leads their previous matches 8-1. The last time they played was at the World Tour Finals last November. Federer won on an indoor court in 3 sets after Cilic took the opening set in a tie break. Cilic won their last hard court match. That was at the US Open semi final in 2014. I doubt Cilic will ever play a better tournament than he played that fortnight.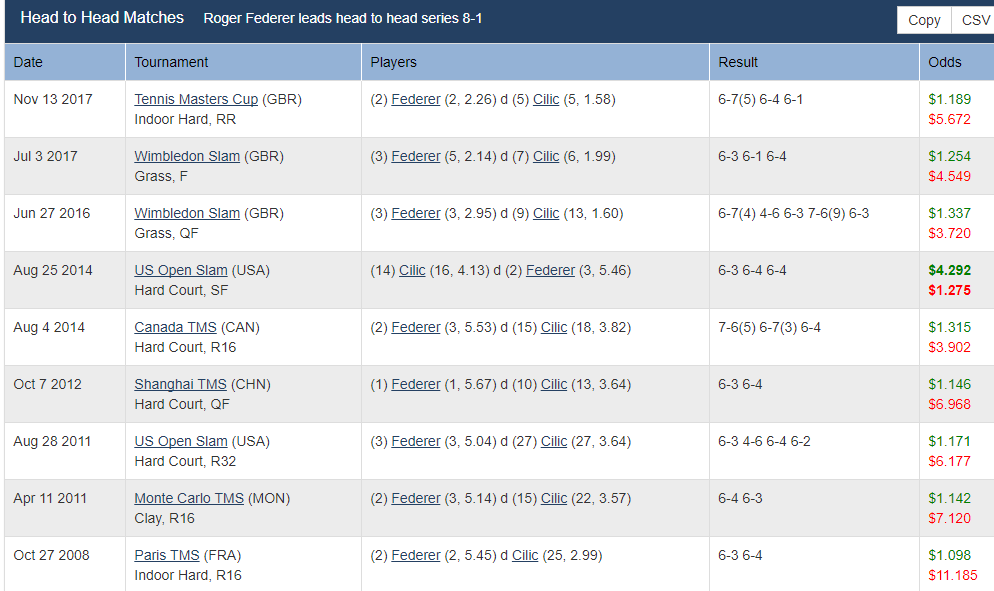 Both players have held serve over 90% of the time in this tournament. Both have won 40% of return points and converted 37% of break points.
Federer has not lost a set so far. At this stage last year he had already played 5 setters with Wawrinka and Nishikori and 4 sets with Melzer in the first round. He beat Nadal in 5 sets in the final. He has played excellent controlled tennis in this tournament. Only Berdych has been able to put him under any real pressure so far.
Cilic has had to work hard for his place in the final. He was fairly comfortable in the first 3 rounds but in the 4th round Carreno Busta kept the sets very close. Cilic won in 4 sets with 3 of the sets being tie breaks.  In the quarter final he was 2 sets to 1 down against nadal but Nadal was struggling a little physically. In the 4th set Nadal's condition worsened and he retired early in the deciding set.
I don't think Cilic will roll over weakly today. In the quarter final Berdych served for the opening set against Federer but couldn't close it out. I think we have a fair chance of Cilic taking a set but unless Federer is below par physically I don't see where Cilic is going to find 3 sets.
We can either lay Federer below 1.20 and remove liability at 1.50 or we can wait for Cilic to break and hold for a better back price. Personally I will be waiting. Federer traded above 1.50 against Berdych in the 1st set and I'd take that today. When trading Federer in slams you usually have to take a price you wouldn't take on almost any other player. Of course it is not compulsory to get involved if the price isn't right!
Federer to win in 3 or 4 sets.