Sock leads their prev 2-1. They last met in Auckland in January last season. Sock came back from losing the 1st set to win in 3 on a hard court. Anderson won on a hard court in Cincinnati in August 2015. He won in straight sets.
Better overall results this year for Sock. His hard courts stats are also stronger. He won 78% of his matches compared to 62% for Anderson on this type of surface.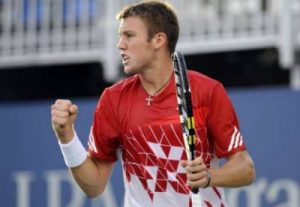 Anderson had a good 3rd set tie break win over Thiem in the 2nd round. In the last round he was only broken once but that was enough to lose him the 2nd set to Bhambri.
Sock has not lost a set so far and beat Raonic in straight sets in the quarter final. He has only been broken once in 3 matches.
I have to favour Sock. He has given fewer chances on his own serve and has returned really well. He will also have the crowd behind him. Half stake on Sock at the start and I will add the rest if he faces a break point.
Update: Anderson won 6-3, 6-4. Disappointing match from Sock. He was only broken once in each set but he didn't take any of the 5 break points he had on the Anderson serve.