Nadal leads their previous meetings 15-3. They last met in April last season in Monte Carlo. Nadal won on clay in straight sets.
Thiem had had a superb tournament before his semi final with Nadal. He had not lost a st and had battered Djokovic in the quarter final. If he could have kept his level of play at that level we could have had another great match in the semi final but Thiem was quite flat and Nadal controlled the match from the start. Nadal won in 3 sets.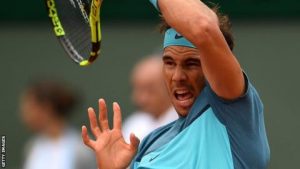 As if Nadal needed more of an edge over Wawrinka on clay, Wawrinka comes into the final after a 5 set battle with Murray in the semi final.
At times in the semi final Wawrinka was impressive but towards the end of the 4th set with Murray leading 2 sets to 1 it did look as if Murray was going to take it. He didn't take his chances in the 4th set and it went to a tie break which Wawrinka won. Murray had nothing left for the deciding set which Wawrinka won 6-1.
We have value on Wawrinka at the start. I think he will take one of the 1st 2 sets.
Nadal to win in 4 sets. Back Nadal if he loses set 1