They have played twice before. They won a match each. Their most recent meeting was in Apr 2016. Pouille won in 3 sets on the Monte Carlo clay. Gasquet won indoors in 2015 in 2 tight sets in Montpellier.
I tipped Gasquet to beat Monfils yesterday but he seemed to be throwing his chances away. He was broken first in set 1 but immediately broke back. He lost the set after blowing a 3-0 lead. In the opening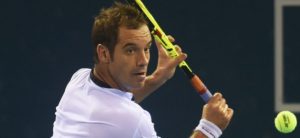 game of set 2 Gasquet faced 3 break points and it looked like he was going to roll over but he managed to hold. He broke Monfils in the next game and moved to 4-1. Both players struggled on serve in the last 4 games of the set. Gasquet took control in set 3 with a double break.
Pouille has served well this week. He still dropped a set to in form Medvedev but only faced 2 break points in that match ( broken once).
Gasquet starts a little low. He may not come under as much pressure on his serve today. Back Gasquet if he gets broken or loses set 1