Nadal leads their previous meetings 7-3. The most recent was in April 2016. Nadal won in straight sets on a clay court.
Fognini beat Nadal 3 times in 2015 which was during the Italian's best season. Fognini's last win was at the US Open in Aug 2015. He won in 5 sets. This tournament shows just how well Fognini can play when he doesn't have his head up his arse. His last 2 wins over Young and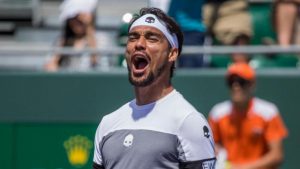 Nishikori were impressive though Nishikori was disappointing.,
Nadal has not been overly impressive this tournament though maybe I am making too much of the bagel he had against Kohlschreiber. He made short work of Jack Sock in the last round and was broken just once. I thought Sock would give him more trouble.
The way Fognini is playing we have some value on him to at least push Nadal's price higher. He is not intimidated by anyone when he is in this sort of form.
Nadal gets more focused as tournaments get to the latter stages and he will not give this up easily. This could be a cracking match.
Lay Nadal between 1.15 and 1.20 in the early games and remove liability if Fognini gets a break of serve. Strong chance of 3 sets.