Almagro leads their previous meetings 3-1. Their last match was in  May 2016. That was in the French Open and Goffin won in 5 sets.
We have seen much better results from Goffin this year. He didn't play much on clay last year and their clay stats in the last 12 months are quite even.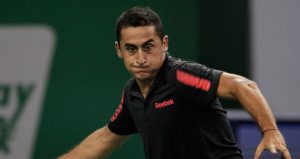 Almagro fought hard in the last round to beat Klizan in 3 sets. He needs his first serve percentage to be higher than it was in that match.  49% just won't be good enough against Goffin.
Some value on Almagro to take a set.