Nadal won both their previous meetings. Their last match was at the Australian Open in January this year. Nadal won in 5 sets on a hard court.  Both their matches were on hard courts and went to a deciding set.
Zverev has better ROI figures over the last 12 months though obviously Nadal always starts at a very low price.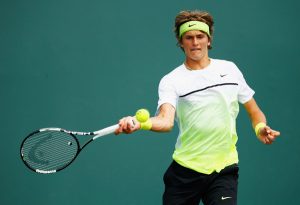 Nadal dropped a set to Edmund yesterday. That was a little unexpected, not least because Edmund has not been at his best this year. Nadal was not sharp and was broken 4 times.
Zverev has looked very strong this week and has easily beaten Lopez and Seppi. Value on Zverev to take a set. Lay Nadal if he breaks first.
Update: Very one sided match. Nadal taught the kid a lesson. 6-1, 6-1.