Paire 1.45, Granollers 3.15
Paire leads their previous matches 4-3. The last time they played was in April this year in Barcelona. Paire won in straight sets on clay. He won their last indoor match in November 2015 in a French Challenger tournament. He won in 3 sets. Three of Paire's wins were on clay.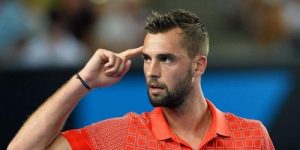 Neither player has a great recent record indoors. but Paire has better career stats on the surface. His overall results this year are stronger.
Granollers has been having some success in Challenger tournaments in recent weeks. They were mostly on clay.
I favour Paire to win but Granollers performed better than expected in the last round. Lay Paire around 1.30 and remove liability if he then gets broken. We have a decent chance of seeing 3 sets.
Update: Paire won 6-1, 6-2