Pouille 1.51, Kukushkin 2.88 
Head to heads are 1-1. They last met at the US Open last year. Pouille won in 4 sets after Kukushkin took the opening set.  Kukushkin won on clay in 2016 in straight sets.
Overall results this year are stronger for Pouille. His ROI is also higher. He has won 64% of his matches this season compared to 57% for Kukushkin. Their hard court results favour Kukushkin who won 64% of his matches on this surface. Pouille has won just 7 of his 14 hard court matches in 2017.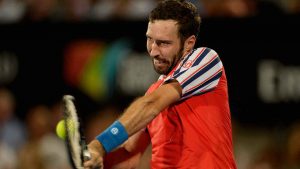 Kukushkin has come through the qualifying rounds and then beat Ferrer in the main draw in 4 sets. In the next round he served really well and beat Donskoy in straight sets.
Pouille needed 5 sets to beat Donaldson in the last round after a straight sets first round win over Bemelmans.  Donaldson put him under a lot of pressure and Pouille faced 20 break points and was broken 7 times.
Some value on Kukushkin. Four or five sets. Kukushkin will at least get into a winning position.
Lay Pouille around 1.30.
Update: Pouille won in 4 sets