Djokovic has a small 22-4 lead in their previous matches.  The last time they met was on an indoor court in Paris in November last year. Djokovic won in 3 sets.
In their 6 completed best of 5 set matches 5 of them went to a deciding set. The only exception was Wawrinka's French Open win in last year's final.
In the early rounds of this tournament Wawrinka was doing just enough but against Del Potro in the quarter final and Nishikori in the semi final he stepped up a couple of levels.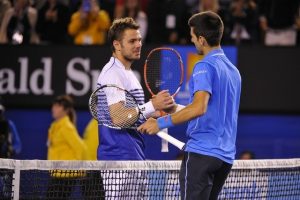 Conditions in New York have been brutal and the humidity has been giving all the players problems. Djokovic and Monfils were both struggling even though Djokovic had only played full matches in 2 of the 5 previous rounds. Djokovic also had problems with his right shoulder and in the 4th set against Monfils he was getting regular treatment.
If anyone has dealt well with the conditions it is Wawrinka. He only seemed to get stronger as his matches with Del Potro and Nishikori progressed. The starting price on Djokovic is the highest we have seen on him against Wawrinka since they met in Monte Carlo in 2010. We are likely to get a very long match as usual from these two and I feel Wawrinka is in better shape physically. He has managed his progress through the draw well and I see some value on him at 3.50