Federer leads their previous meetings 6-1. They last met at Wimbledon last year. He won in 5 sets. Cilic's win was at the US Open in 2014. He won in straight sets and went on to win the title.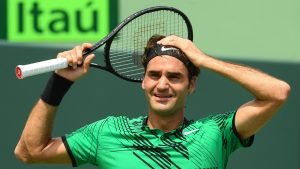 Cilic made it through the first 4 rounds without dropping a set. He then needed 5 sets to beat Muller who had beaten Nadal in the previous round in 5 sets. Not many people have mental energy left after a long win over Nadal. In the semi final he played Querrey who had played 5 sets in the previous 3 rounds. Querrey was 3-1 up in the 4th set and it looked like being another 5 setter but fatigue got the better of him. Cilic came back to win the set.
Federer has been very impressive so far and has not lost a set. In the semi final Berdych gave him his biggest test of the tournament. The first 2 sets went to tie breaks. Federer was only broken once. Berdych was broken just twice.
As their only grass meeting was last year and went to 5 sets we have a chance that Cilic takes a set. Federer has only been broken 4 times in the tournament so Cilic's best hope of a set is a tie break. Unfortunately for him Federer has a superb tie break record in the last 12 months with 17 wins from 22 tie breaks. Cilic won 14 of 28. In this tournament Federer won all 5 tie breaks and Cilic 4 of 5.
Lay Fed around 1.15 in the early part of the opening set. He starts around 1.22. He wins in 4 sets..