Cilic has won all4 of their previous meetings. They last met in August 2015 in Washington. Cilic won in 2 tie breaks on a hard court.  All their other matches were on grass. The last one was at Wimbledon 2012. Cilic won 17-15 in the 5th set. All their grass matches went to a deciding set.
Querrey has played 3 consecutive 5 set matches. Beating Tsonga, Anderson and a slightly injured Murray will have sapped his energy. He has played some  excellent tennis in the tournament and it gave him a boost to see that Murray was not able to compete at his usual level.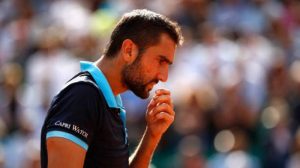 Cilic had not dropped a set until the quarter final when Muller pushed him to 5 sets. Muller had beaten Nadal in 5 sets in the previous round and it was a huge achiev. ement to be able to play another high level match in the next round
In the quarter final Querrey didn't start to play well until he saw Murray was not at his best. I think he can still take at least a set today but it will be a big surprise if Cilic loses. Lay Cilic around 1.20 to 1.25. Remove or reduce the liability if Cilic then gets broken.