Once again the Tour Finals will take place at London's O2 Arena. The opening matches are on Sunday.
The 8 players are split into 2 groups and will play a round robin format to qualify for the semi finals.
Whatever happens Nadal will end the year at number 1. The winner can potentially pick up 1500 ranking points.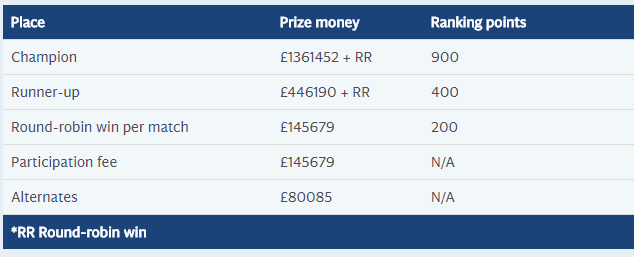 Group A/Pete Sampras
Rafael Nadal
Dominic Thiem
Grigor Dimitrov
David Goffin
Nadal is obviously favourite to win the group. He  leads Thiem 5-2.  All their matches were on clay. He leads Dimitrov 10-1 and won all 3 of their matches this year. All were on hard courts.  he has won all 3 of his previous meetings with Goffin.
Who will take the other semi final place? Thiem leads Dimitrov 2-1. Dimitrov's win was this year on a hard court. Goffin leads Thiem 7-3. They have met twice this season with Goffin winning on clay and a hard court.
Dimitrov has the edge over Goffin and leads their previous matches 4-1.  He leads 2-1 this season and they are 1-1 on indoor courts in 2017.
I would give the edge to Dimitrov although he and Goffin are in the Finals for the first time whereas Thiem is making his second appearance
Group B/Boris Becker
Roger Federer
Alexander Zverev
Marin Cilic
Jack Sock
Federer is the obvious pick for one of the semi final places.  However Alexander Zverev leads their previous matches 3-2.  Zverev leads 2-1 this year with wins on a hard court and an indoor hard court. Federer won on grass.  Federer leads 7-1 over Cilic with their only 2017 match ending in a straight sets win for Federer at Wimbledon. Federer has won all 3 of his matches with Jack Sock. Their only 2017 meeting was in Indian Wells which Federer won in straight sets.
Zverev has the lead over Cilic 3-1. Their only match this season was on clay  and he won in 3 sets. He has won their last 3 matches. Zverev and Sock have met twice. Both were in 2016 with Sock winning indoors and Zverev taking his win on a hard court.
Sock leads Cilic 2-0. Both matches were in 2016 on hard courts.
Zverev looks like the best bet for the other semi final place.
Predicted semi finalists
Nadal, Dimitrov, Federer, Zverev