Murray leads their previous meetings 7-2. They last met in August this year in the quarter finals of the US Open. Murray had burned himself out a little  in his push for the number 1 ranking and was far from 100%. Nishikori won in 5 sets. That loss to Nishikori allowed him to rest and it set him up for another push on the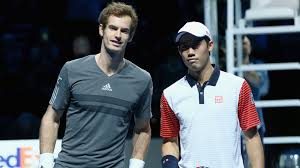 world number 1 ranking  and led to his amazing run for the rest of the season . He won all 4 of his tournaments after the US Open.
In his first match this week he met an in form Marin Cilic. Murray took control early in the match but there were short periods when his mind seemed to wander. He was only broken once though and managed 4 breaks of the Cilic serve.
Nishikori played a solid match to beat Wawrinka but the Swiss number 1 made his life a whole lot easier than it should have been. He never got his backhand working and his serve  didn't have the bite that we expect to see. Was he still having problems with a knee injury? That could have hindered him pushing off the court to hit the serve.  Nishikori's first serve percentage was very low at 47% and he will need to improve on that although he still did not face a single break point against Wawrinka.
I won't be surprised if Murray drops a set here but he has improved his consistency so much this year that unless he is REALLY fatigued he wins.