How frustrating a player is Stan Wawrinka? So often we see him falter against mediocre opposition but occasionally he can play to his potential. He pushed Djokovic about as close as its possible to do so without winning. Djokovic won 12-10 in the 5th.
Kerber lost in straight sets to Makarova. Had I been trading I would probably have gone with the German so I'm glad I had the night off. Tipsarevic retired in the second set against Almagro but other than these 2 matches it was the favourites who came out on top.
Tonight Seppi takes on Chardy. Both men have played a lot of tennis this in the first week. Chardy played probably the match of his life to beat Del Potro in 5 sets. His other two matches went to 4 sets.
Seppi had to come back from 2 sets to 1 down in his last 2 matches to beat Cilic and Istomin.
They have both had a day to recover  but if this match goes to 4 or 5 sets we may see a lot of errors creeping in to both men's games. The player who has played most above their normal level is Chardy and whilst I expect him to play well I expect a "let down" in this one Chardy in the quarter finals of a Grand Slam? Seriously?
As usual the first set is crucial. If Chardy loses it he may fade quickly. Either way I am on Seppi to take this one. He has proved in the past that he has excellent stamina and he has more experience in the bigger matches.
 In other matches I think Wozniacki will get revenge for Kuznetsova beating her recently. Kuznetsova. Kuz hardy looked full of energy after her win over Carla.Maybe 3 sets but Woz should be able to bore her to death.
A slow start from Vesnina will put her up against it in her match with Azarenka. Aza has looked far from invincible but I think Vesnina will be quite happy with how she has started 2013 and with her first major of the season.
Hopefully Jovanovski can get off to a fast start against Stephens so we get a better price on the American.
Gasquet usually runs out of energy if he makes it through the first week of a Grand Slam and Tsonga should get the job done in 4 sets.
Simon came through to win the battle of the Walking Dead to reach this stage but I don't think that even chocolate will help him against Murray.
Kirilenko knocked Serena out of the US Open last year. At least that is what the Betfair tennis page says! What morons do they have compiling the stats??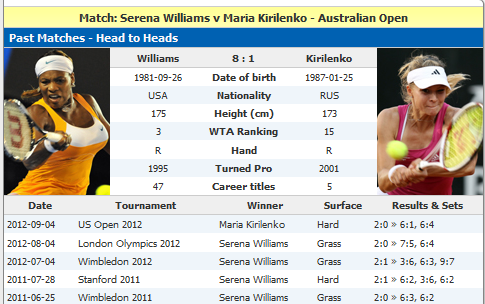 There's an outside chanceof  Kirilenko taking a set but she won't be winning the match.
I expected Kohlschreiber to beat Raonic but the big Canadian came through in straight sets. That suggests he is serving well and as he has taken Fed to 3 sets in each of their 3 matches and in the last 2 meetings the third set was settled in a tie break, a lay of Federer has to be the way to go.