Andy Murray and Djokovic are pretty even in the market to win the title. None of the other potential contenders have really showed their hand in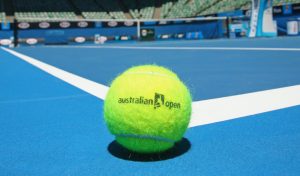 2017.
Section 1:
Murray's section of the draw is quite a tough one. Having said that his own potential route to the quarter finals looks about as comfortable as he could have hoped for. Nothing in tennis is certain of course but Lu, Querrey and Pouille will not beat Murray without him having a really bad day.
The other half of this section has Nishikori, Berdych and Federer. Of those I would give Nishikori the best chance. Federer often surprises after an absence but he wasn't quite at his best in the Hopman Cup and that was his only tournament since Wimbledon in June. He is likely to meet Berdych in the third round and  I think he will take that one.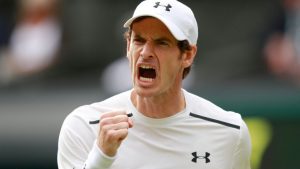 Berdych's confidence is probably not be up to beating Fed in a best of 5 match.
Nishikori looks fairly certain to make to it the 4th round where he will play the winner from the Berdych v Federer match.
Predicted quarter final: Murray v Nishikori
Section 2:
Wawrinka is the main man in this section but his projected route to the quarter finals is far from easy. To beat Johnson in the 2nd round he won't need  to be at his very best but if the American serves as well as he can the sets will be very tight. If he gets through it is likely to be Troicki waiting for him in the 3rd round. Troicki played well last week but could have used up his season's motivation reaching the semis when he was defending champion in Sydney.
In the 4th round Wawrinka and Kyrgios could meet again. Their previous meetings have produced talking points and that's the sort of match you would expect the gobby Aussie supporters to pack the stadium for.
The other half of this section is headed by Tsonga. His strongest test will be against Jack Sock. Tomic and Dan Evans make up the list of contenders. Cilic is also in there but I have a feeling that Evans can give him some problems.He has started the season very well.  With the way Tomic has been performing if Evans makes it past Cilic he has to be in with a shout against the Aussie.
Predicted quarter final: Kyrgios v Tsonga
Section 3:
Raonic is the headliner here but his supporting cast is very respectable. Nadal, Ferrer, Bautista Agut and the younger of the Zverev brothers make for some entertaining tennis. Monfils and Kohlschreiber can make things interesting too.
Nadal has been playing well and is likely to meet Zverev in the 3rd round. He will need to be at his best to get through that one and I expect Zverev to get the win.
Monfils and Zverev will probably meet in the 4th round. Raonic could meet Ferrer or Bautista Agut in the 4th round and either way he should make it to the quarter final.
Predicted quarter final: A Zverev v Raonic
Section 4:
Of course Djokovic is in this section. I wonder what it's like for him looking right at the bottom of the draw for his name rather than right at the top;-)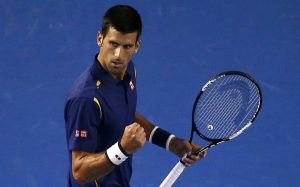 His first test will be in the 3rd round against Edmund although being realistic Edmund is unlikely to get more than a set.
Dimitrov and Gasquet are strong  and have started the year well. They are set to meet in the 3rd round. I'd give Dimitrov the edge in that one.
The top part of this section has Thiem, Fognini, Goffin and Karlovic. Thiem was making hard work of his matches last week. Goffin can play well one day and poor the next. Fognini can make the quarter finals if he forgets that he is a great player with shit for brains.
Thiem and Goffin should come out on top of that group with Thiem having the edge.
Predicted quarter final: Thiem v Djokoic