This should be an interesting tournament. Serena Williams has only played a couple of matches this year and didn't look near her best. If she reaches the final of this tournament she will regain the number 1 ranking. It is too early in the year for any of the top players to have really reached their best level.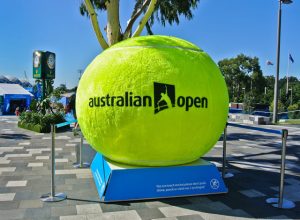 Some of the top players are not playing in Melbourne. Azarenka gave birth about a month ago so misses the start of the season. Sharapova is still suspended and won't back until the end of April.  Madison Keys is recovering from surgery.  Sloane Stephens probably wouldn't have made much impact in Melbourne but she misses the tournament too. Kvitova is also absent.
Section 1:
Top seed Kerber tries to defend her title and has a decent draw. Kristyna Pliskova and Canadian Bouchard could give her decent work outs. I think Bouchard in particular could have her best slam for a while.  Potentially she meets Kerber in the 4th round.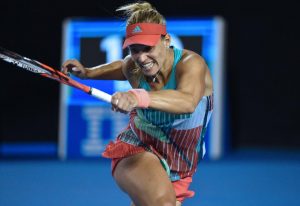 It looks quite a weak section with Muguruza being the other headliner. If the Spaniard plays near her best she should cruise through to the quarter finals with McHale and Zhang being her strongest potential opponents.
Predicted quarter final: Kerber v Muguruza
Section 2:
Halep and Kuznetsova are the top seeds in this section. Halep has some work to do if she is to reach the quarter finals. Olympic gold winner Puig has a lot to live up to this season and could meet Halep in the third round. Whoever gets through that one will probably get Venus Williams in the next round.
The other half of this section has Kuznetsova who hasn't made an amazing start to the season. She has been fine against lower ranked opposition but the first decent player she met in her first two tournaments proved too much for her.
Svitolina should fancy her chances this year. If she gets past Schiavone in the second round she is likely to meet Pavlyuchenkova. Pav has started the year well and won't  make life easy for Svitolina.
You never really know how Jankovic will do from week to week but if her head is on straight she could make life difficult for Siniakova and Kuznetsova.
Predicted quarter final: Halep v Svitolina
Section 3:
Anything can happen in this section. The top seeds are Pliskova and Radwanska. Pliskova had her best slam at the US Open when she reached the final.  Maybe the weight of expectation could be too much for her next week. If she gets tight then her possible opponents could give her a headache or two. Ostapenko and Konjuh are good enough to take advantage of an off day and even Niculescu in the second round could prove to be a banana skin.
Radwanska looked less than impressive in the first week of the season but was more solid last week as she reached the final. It could be argued that she has an easier draw than Pliskova with Vesnina ( who retired last week) and Heather Watson looking like her biggest threats.
Predicted quarter final: Pliskova v Radwanska
Section 4:
Serena, like Djokovic, has to look to the bottom of the draw to find her name. She won't like that! She is always more motivated for the slams but we have no way of knowing if she is in the shape to win another slam right now. Safarova has started the year well and should be full of confidence. She meets Serena in the second round and I think she will put the American under a lot of pressure. It won't be the biggest of shocks if Serena doesn't make it through that one. Whoever wins that match is likely to make the quarter final with in form Strycova being the only viable obstacle in the 4th round.
The top half of this section is more open. Konta has made a very strong start to 2017 and won the title last week beating Radwanska in the final.  Wozniacki is in decent form but injury may cut her tournament short.
Makarova just hasn't found her feet yet but if she makes it to the third round she is likely to find Cibulkova waiting for her.  A motivated Cibulkova can take on and beat anyone and she would be my tip to reach the 4th round. Her potential meeting with Konta should provide some exciting tennis.
Predicted quarter final: Konta v Serena Williams