Just over 24 hours until the first Grand Slam of the season gets under way.
We have two very dominant world number 1's who are both defending the title. It will take a special performance to take out Djokovic but is Serena ready? She had some problems during the Hopman Cup.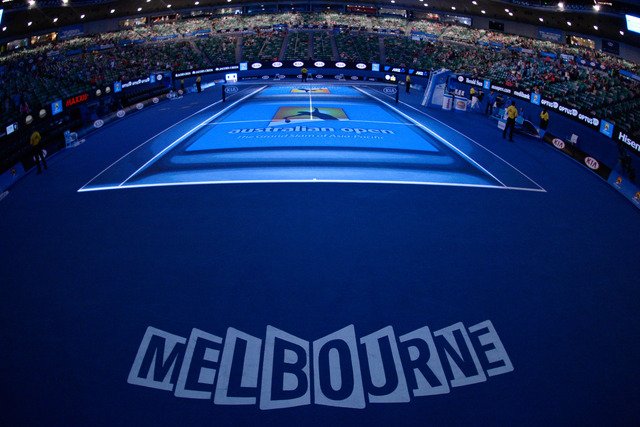 Men's Draw
Djokovic is always well prepared for the Australian Open but what about the other contenders? Federer reached the final of his first event of the season but suffering from a cold took the edge off his play. He lost out in the final to Raonic.
Nadal lost to Nadal in the final in Doha. He had a fairly easy draw and to be honest wasn't fantastically impressive. Djokovic battered him 1 and 2 in the final.
Murray ended last season on a high as he was a major factor in Britain taking the Davis Cup. He took part in the Hopman Cup but hasn't played a "proper" tournament in 2016.
Raonic has staked a claim by taking the final away from Federer in Brisbane but is realistically going to challenge in Melbourne.
Wawrinka has given Djokovic problems in slams and can find extra motivation at any time and Nishikori can take a scalp or two but when he had his best chance of taking a slam at the US Open he didn't take it.
Let's have a look at the 4 sections of the Men's draw.
Section 1
Djokovic is unlikely to even break sweat until the 4th round when Simon looks like his most likely opponent. it could possibly be Karlovic though he wasn't impressive in his last match. Mind you, Simon wasn't either!
Tsonga and Nishikori are stand out favourites in the other half of this section and it will take an upset for them not to mean in the 4th round.
With Djokovic being so dominant and making half the section almost a foregone conclusion it reduces the interest a little for me. We need Paire or Garcia Lopez to take out Tsonga or Nishikori to add some spice. Maybe Seppi will knock out Djokovic in the 3rd round and blow the whole thing wide open!
Predicted quarter final: Djokovic v Nishikori
Section 2
Federer lost in the 3rd round last year to Seppi in 4 sets so he'll be looking to improve on that this time around. That was his worst finish since 2001. He will have a tough time in the 2nd round with Dimitrov but other than that he has a very favourable draw.
The other half of the section is more open. Berdych has an excellent recent record at this event with semi final in the last 2 seasons and quarter finals in the three before that.
Kyrgios will be keen to well in his home slam and looks set to meet Berdych in the 3rd round.  The other 3rd round match is likely to be Cilic v Bautista Agut although if they are below par then Coric can trouble Cilic and Querrey could sneak past Agut.
Predicted quarter final: Federer v Berdych (with Kyrgios being the biggest threat to this prediction).
Section 3
If Nadal is going to make the semi finals then he has some big servers to negotiate first. Becker in the 2nd round can serve big if he has a good day but shouldn't really trouble Nadal over 5 sets.
Chardy won't be a pushover for Nadal but it's a match he is expected to win. Anderson in the 4th round will be a tough one for the Spaniard.
The other half of this section contains 3 players who have already won titles in 2016 and also Sock who made the final this week but retired. Wawrinka won in Chennai, Raonic took the title in Brisbane and Troicki won today in Sydney over Dimitrov.
Sock v Wawrinka will be an interesting 3rd round encounter as long as Sock is over his injury
Predicted quarter final: Nadal v Raonic
Section 4
Mr Murray's section and he has been handed a VERY favourable draw. His first tough match could be Tomic in the 4th round. Whilst Tomic can make him work hard for a win it would be an upset if the Aussie wins that one.
The top half of this section could be tricky to predict. On paper Ferrer should make the quarter final but he hasn't been at his best.  It's not unthinkable for Steve Johnson to beat him if they meet in the 3rd round.
Lopez and Isner could have a boring serve bot type match in the 3rd round. If Isner is fit he could be the surprise quarter finalist.
Fognini is another player worth a mention. He has played some decent tennis but I think he will have problems if he meets Tomic in the 3rd round.
Predicted quarter final: Isner v Murray
Lets hope we have a few upsets this year to keep it interesting.