The men's draw has a different feel about it this year. The King of Clay's crown is slipping. So does that mean the draw is wide open for a new champion? Well, if you can call Djokovic a new champion. As far as the French Open is concerned Djokovic would be a new name on the trophy. Nadal has won the tournament for 8 of the last 9 years. He has been beaten once at Roland Garros. Federer won the title the year that Soderling dumped Nadal out early.
This must surely be Djokovic's best chance of finally lifting the trophy in Paris. A lot was made of the fact that he and Nadal are in the same section of the draw and therefore set to meet in the quarter final.
Section 1
Djokovic and Nadal are joined by Dimitrov and Gasquet in this section. Djokovic could meet Tomic in the third round. His first test is likely to come in the 4th round when he is expected to meet Gasquet.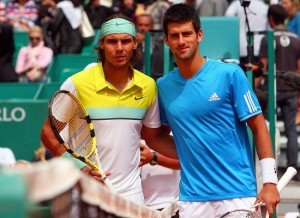 Nadal was taken to 3 sets recently by Almagro and they will meet in the second round.  If he makes it past his fellow Spaniard then neither Kuznetsov or Mannarino are likely to trouble him in the third round. Danger is likely to come for Nadal in the shape of Dimitrov in round 4. If Nadal was on top form people would be saying this is an easy draw for him. he will be in no rush to suffer any more damage to his Roland Garros record and Dimitrov will need to be extra sharp if he is going to join Djokovic in the quarters.
I would love to see someone take out Nadal early. Not because of any dislike I have for the guy. I respect the hard work he puts into staying at or near the top of the game for so many years but the mens game in particular needs to see some changes so we see other players able to compete in the slams and challenge for the big titles.. In reality I think he will find a way to give the match everyone seems to be wanting.
Predicted quarter final: Djokovic v Nadal    (Semi final, Djokovic)
Section 2
Murray's section which he shares with Ferrer, Isner and the strong outsiders Kyrgios and Leo Mayer.
Murray should meet Kyrgios in the third round. Murray has shown some very strong clay form this season. It looks like Mauresmo can in fact add something to his game.. Murray reached the semis last year and also in 2011. He made the quarter finals in 2012 but didn't play in 2013. Kyrgios has been in decent form this year but lost to Raonic in the first round last year. I expect Murray to be too strong for him.  A 4th round match with Isner if the big American gets that far will be a good test for Murray but one I think he is able to pass.
Ferrer's route to the quarter finals doesn't get sticky until the 4th round. There he is likely to meet either Cilic or Leo Mayer. With the form that these 2 have shown recently I would be giving the edge to Mayer.
Predicted quarter final: Murray v Ferrer     (Semi final, Murray)
Section 3
An interesting section. Nishikori and Berdych are the main contenders but we also have Fognini, Tsonga, Verdasco and Kohlschreiber.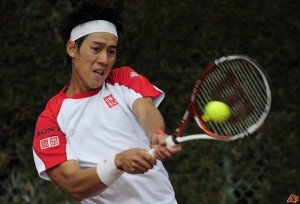 Nishikori lost in the first round last year to Klizan. He hasn't been handed an easy draw this year either. Mathieu shouldn't give him too many problems in the first round but he could meet Bellucci who has won the title this week in Geneva. If Nishikori makes it past the Brazilian he could find Verdasco waiting for him in the next round. Verdasco can turn on the style occasionally and reached the 4th round last year.
Berdych and Fognini should meet in the third round. They recently played a 3 setter which Berdych won in a tie break.
Tsonga and Kohlschreiber are likely to meet in the third round and I'd give a slight edge to the German in that one.
If Nishikori can avoid the banana skins he should join Berdych in the quarter final.
Predicted quarter final: Nishikori v Berdych      (Semi final, Berdych)
Section 4
Federer and Wawrinka plus Monfils, Cuevas and Thiem.
Federer looks like meeting either Baghdatis or Youzhny in the third round. My money would be on Baggy. It would be great to see a Monfils v Federer meeting in the 4th round but the Frenchman would have to get past Cuevas first and that won't be an easy one for
him. I would be on Cuevas for that one. Federer's recent match with Cuevas was very tight.
In the top half of this section Wawrinka needs to find some slam form if he is to make any impact. Lajovic has been playing and serving well and Garcia Lopez and Simon can both give Stan a headache.  Wawrinka lost to Garcia Lopez in the first round last year. That was his worst finish since 2006.  Garcia Lopez will be his biggest threat to making the quarter finals.
Predicted quarter final: Garcia Lopez v Federer     (Semi final, Federer)