14:00 – Djokovic v Wawrinka
Djokovic leads their head to heads 20-3. In their last 4 grand slam meetings they have gone to 5 sets. They have never met at the French Open. In their last 3 clay matches (between 2010 and 2012 ) Djokovic won in straight sets.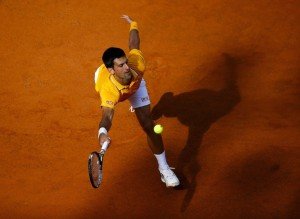 Wawrinka lifts his game against Djokovic for the slams. He played a superb match to beat Federer in their quarter final. Against Tsonga in the semis he wasn't quite as sharp though there were pockets of brilliance.
Djokovic wants this too much to miss the chance of his first French Open title by losing it to a guy who he has beaten in 17 of their last 18 meetings. Only Murray has been able to put him under sustained pressure. The Scot played the best clay court match of his career. He demonstrated  just how much his clay game has improved. While I was not a fan of Mauresmo as his choice of coach she has added an extra dimension to his all round game. He needed to be able to compete with the best on his least favourite surface and it is clear he now can.
Will Djokovic feel the need to employ the mental games that he did in the opening set against Murray? "Trash talk" is seen as part of the game in the NBA and "sledging" in cricket can inject some spice that adds something to the game. In tennis the players are 78 feet apart so trash talk isn't an option. Certain players fake or exaggerate illness or injury to distract their opponent. The aim is the same as those of the basketball or cricket players but it just feels less honest. If they bumped their opponent's shoulder as they passed at the net at change over (as we have seen from Nadal in the past) I personally would have less problem with that.
Wawrinka will need to match and improve upon his level from the Federer match and I just dont think he can, at least not for the whole match. He has experienced a slam final so should be able to handle the occasion and I think he can take a set but Djokovic takes his first French Open title this afternoon.