Yesterday felt a little more random than the previous 2 days. A few surprise results such as Dimitrov losing in straight sets and Radwanska losing to Beck. Jankovic and Bouchard were also sent home.
WTA French Open, 10:00 – Beck v Kania
Surprising win for Beck over Radwanska in the first round. Not so much because Rad is great on clay because she isn't but more because Beck's form coming into the tournament was terrible. She hadn't won a match in her last 5 tournaments.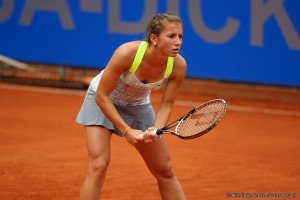 Kania had also been poor before this event but she came through the 3 qualifying rounds and beat Barthel in the main draw in 3 sets.
Beck is too low at 1.35 . She will obviously gain in confidence after that last win but there is also a chance of a "let down" after a big win. I'm looking to lay Beck if she goes a break ahead. 3 sets wouldn't surprise me.
Hard to pick a winner pre match. Too many variables pre match.
ATP French Open, 11:30 – Monaco v Gabashvili
Monaco leads the head to heads 2-0. Their most recent meeting was this season on a hard court and he won in 3 sets.
How annoying was Monaco in the 1st round?? He was twice a break up in the opening set and lost it in a tie break. he then went a break up in set 2 but was broken back again. I think he was also up in the 4th set and lost that set, also in a tie break.
Gabashvili served very well in his win over Lopez.he is very inconsistent but when he plays well he can challenge most opposition.
Monaco is likely to get fewer chances if Gabashvili serves as well today. Gabashvili only faced 2 break points against Lopez and saved both.
Lay Monaco when he is a break ahead. I think he wins but this will be 4 or 5 sets.