It is difficult to forecast who will win each round and come up with predicted quarter finalists but if you are looking for who is worth a bet in the outright markets you need to have a go. It is especially difficult in the WTA.
So many players are either injured or not playing their best tennis that it looks even more open than usual.
Section 1
Serena Williams heads this section. Lots of doubts about her and at times she has looked vulnerable. Despite that her loss to Kvitova in Madrid remains her only loss of 2015. She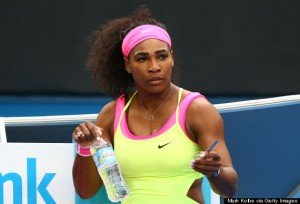 doesn't have an easy draw. A likely third round meeting with Azarenka won't be easy. They had a tough battle in Madrid with Serena winning in a third set tie break. If she gets through and Heather Watson doesn't find a way to beat Sloan Stephens in the second round the superstar and the wannabe superstar will meet in the 4th round.
Wozniacki is the other top player in this section. She could have a tricky third round with Jankovic. JJ retired last week but I am not reading much into that as she has retired or withdrawn before a match every time she has played Strasbourg.
I think the surprise of this section could be McHale. A second round meeting with Petkovic could scupper this prediction but Petkovic isn't 100% right now. If McHale gets past her which could be by way of retirement she could come up against Errani who is struggling with her serve. McHale beat her in Rome in straight sets.
Difficult to pick anyone but Serena and Wozniacki barring any upsets. Azarenka is probably the only serious contender.
Predicted quarter final: S Williams v Wozniacki  (Semi final, S Williams)
Section 2
Some strong players in this section. Kvitova has to get past a few banana skin matches if she is to reach the quarter finals. She can implode at any time  but has looked strong on the clay this season. Her first real test will probably come in the 4th round unless Begu catches her on a bad day in the third.  Bacsinszky should get past Smitkova to face the
winner from Bencic v Keys. Bencic has been far from her best in 2015 and Keys withdrew last week. Lots of ifs, buts and maybe's in that one but I think Keys' withdrawal was to ensure she is as fit as possible for Paris. Bacsinszy is stronger on clay and I'd expect her to be Kvitova's opponent in the 4th round.
The other half of this section is where we find Kuznetsova. Hopefully she has recovered from her excellent run to the final in Madrid. She doesn't have an easy first round with Bertens who has been good on clay this year but was disappointing in her last match. Schiavone and Schmiedlova can probably make Kuznetsova work for her supper but should prevent the Russian making it to the 4th round .
Bouchard seems to raise her game for the slams but raising the Titanic might be easier right now. There were signs of life in Rome. A first round meeting with Mladenovic could go Bouchard's way as Mladenovic is playing the final in Strasbourg today and will have heavy legs next week. Bouchard should be able to over power Schmiedlova if they both reach round 3.  That would put her up against Kuznetsova assuming Kuznetsova beats Pliskova which of course is anything but certain.
Predicted quarter final: Kvitova v Kuznetsova     (Semi final, Kvitova)
Section 3
A strong section and perhaps the most open. Ivanovic reached the third round last year but her form this season suggests a repeat of that won't be easy. She doesn't have the worst draw but there are enough strong players ahead of her who can take advantage of a poor match from her. Shvedova in the first round could be uncomfortable for her. Doi in round 2 (assuming she gets there) should be straight forward but then a third round with
either Jovanovski or Garcia will be a real test. Jovanovski has found some recent strong form from nowhere and Garcia had had an excellent season so far.
Makarova could face Ivanovic in the 4th round although if Ivanovic meets Garcia in round 3 her progression is very uncertain as she has already lost 3 times this season to Garcia. I think if Ivanovic DOES meet Garcia again the winner of that will go on to the quarter final.
The other half of this section has Halep, Radwanska, Vinci and Svitolina. Svitolina has been playing well but has fallen short against the top players. She is likely to meet Radwanska in the third round.
Halep could meet Vinci in the third round although I'm not sure how long Vinci will last as she plays the final in Germany today and doesn't have an easy first round match with Cornet. Halep's first real test will probably come from Radwanska in the 4th round.
Predicted quarter final: Garcia v Halep   (Semi final, Halep)
Section 4
Another strong section. This one has defending Champion Sharapova. Her first test is likely to come from Stosur in the third round assuming the Aussie has enough energy to get there after her long run this week. 
Lisicki could have real problems with Gavrilova in the second round and I think she will come out second best.  A win for Gavrilova would earn her a third round meeting with Safarova who I think will be too strong for her.
Muguruza reached the quarter finals last year.  I will be amazed if she manages the same feat this time. her 2015 clay form hasn't been great and a second round meeting with Giorgi could be a real test. if she gets through that its probably Kerber who will be waiting for her in the third round.  If she finds a way to get through that one (which I doubt) then Suarez Navarro  or Pennetta will be waiting. On recent form I expect Suarez Navarro to get the better of Pennetta in the third round.
Predicted quarter final: Suarez Navarro v Sharapova     (Semi final, Sharapova)
My mens preview will be up later today.